Bengali Cultural Society of Cleveland
Presents
Natya Mela (Drama Fest)
This year, as part of the BCS Jubilee celebration, we are preparing for a grand finale of our year-long sequence of celebratory events. This will be part of the BCS Bijoya Sammilani.
On Saturday, November 5, we will be hosting the first ever 'natya mela' (drama fest) in Cleveland featuring three captivating theatrical productions by three highly acclaimed drama groups from Washington DC, Chicago and Columbus, as well as our own production (the Bengali adaptation of a famous crime thriller).
Partially funded by an 'ArtStart' grant from the Ohio Arts Council, this event will take place at the Berkman Hall Auditorium of the Cleveland State University (1899 E 22nd St., Cleveland, OH 44115) and will also include an informative panel discussion by eminent experts in the field of theatre from some leading educational institutions in northeast Ohio such as Case Western Reserve University, Kent State University and the University of Akron.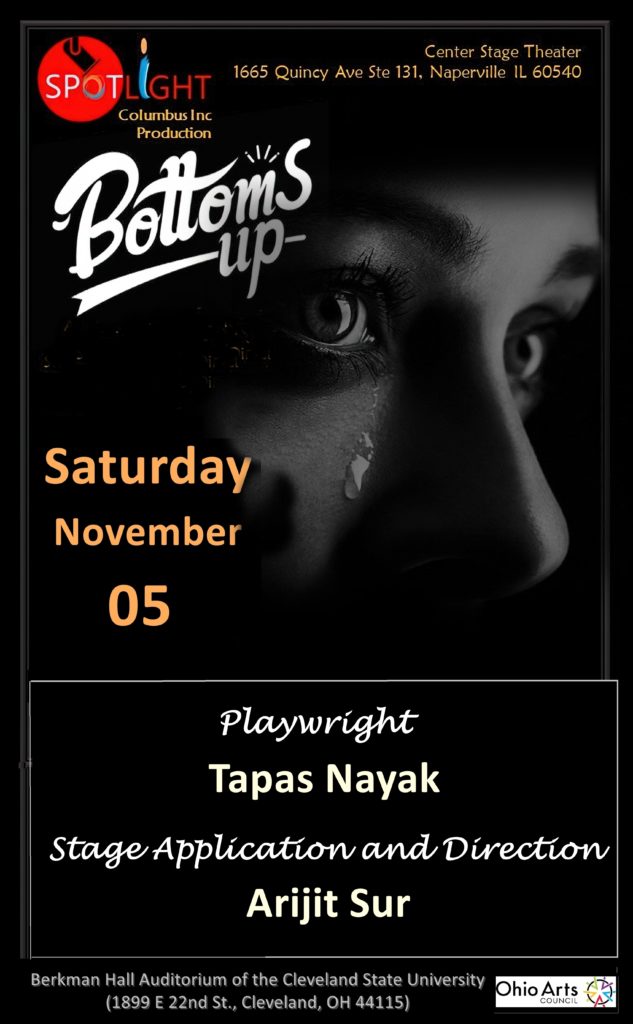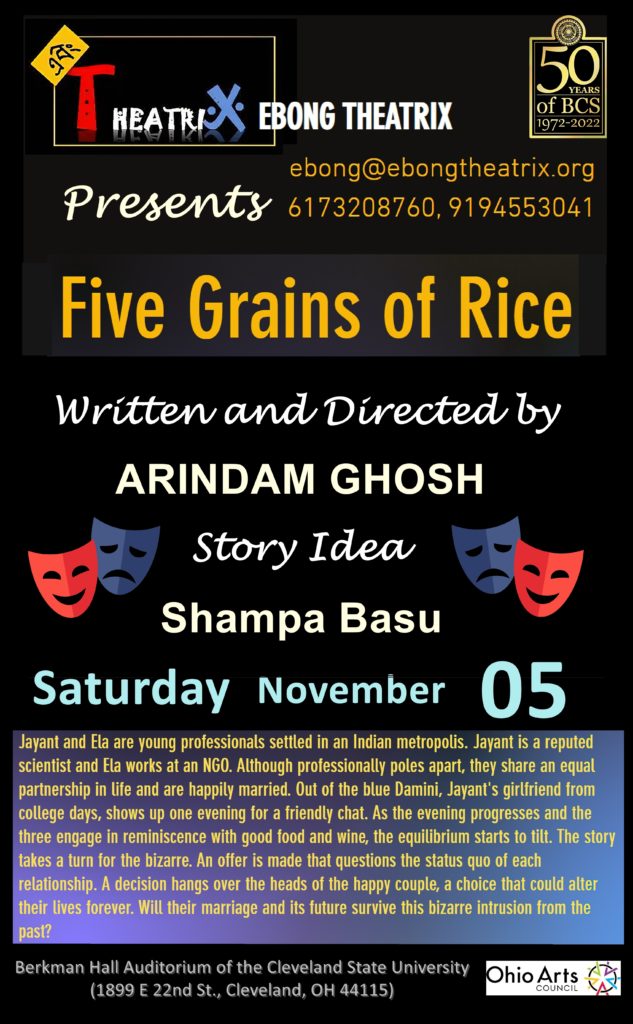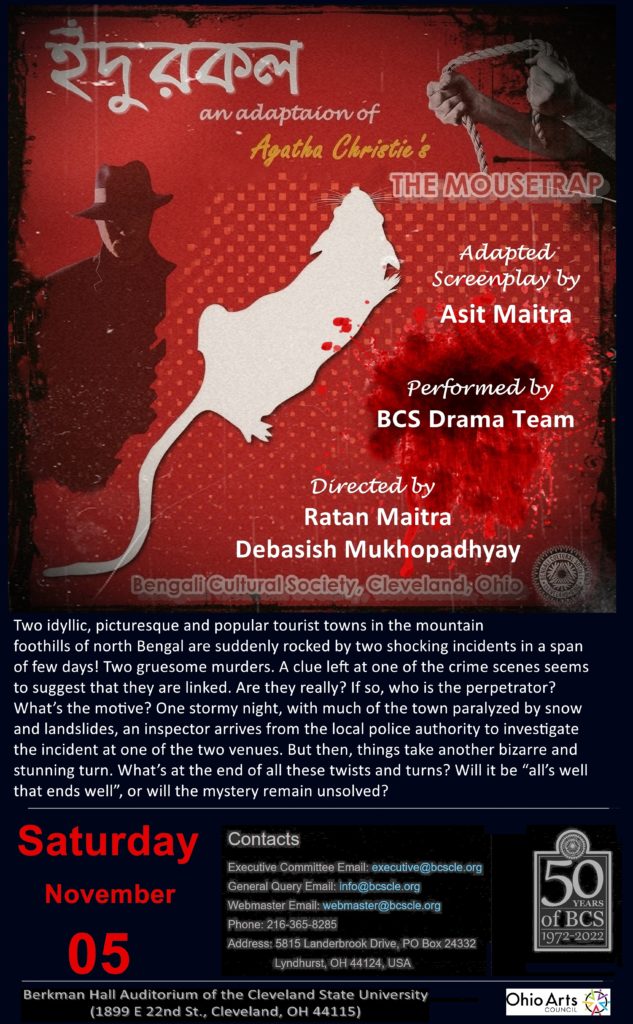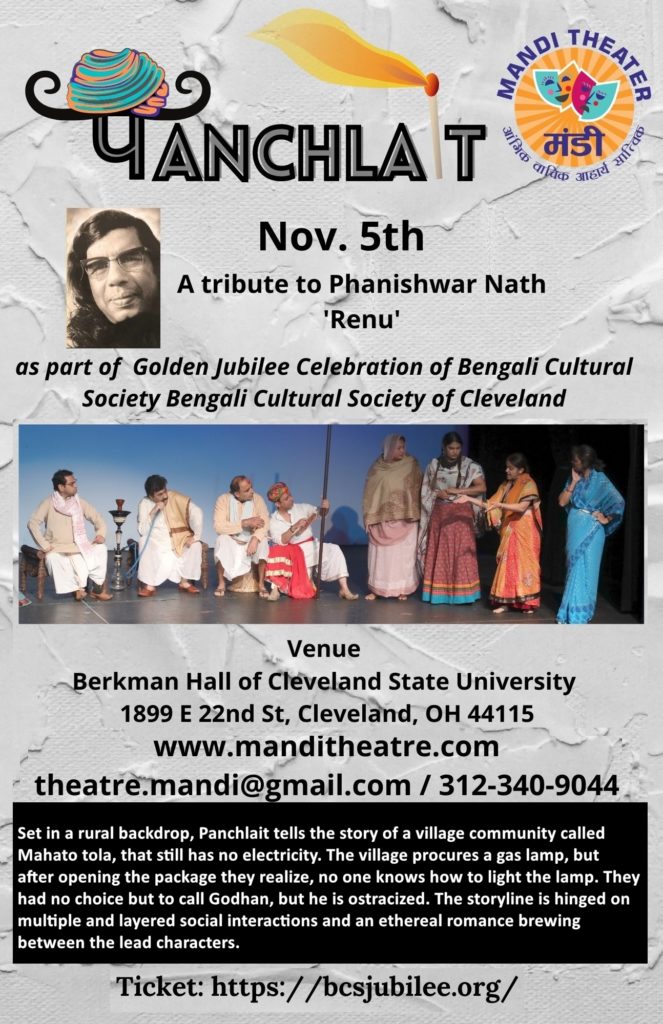 Here are some preliminary details about the program on November 5. The well-known theatrical group Mandi Thetre from Chicago will stage a short play in Hindi called 'Panchlait'. The sensational theater group Ebong Theatrix from Washington DC will present their recent, highly popular production in English called 'Five Grains of Rice'. One of the most accomplished theatrical groups from our home state of Ohio, the Spotlight of Columbus, will bring to us a thoroughly enjoyable and innovative production in Bengali called 'Bottoms Up'. And last but not the least, our BCS drama team has embarked on the ambitious project of staging a Bengali adaptation of Agatha Christie's famous crime thriller 'The Mouse Trap', called 'Indur Kol'.
Among the panelists for our panel discussion entitled 'Raising the curtain for an international box office – when theater transcends boundaries', we have Christopher M. Bohan (senior instructor of acting at the Case Western Reserve University), Eric S. Kildow (associate professor of theatre at Kent State University, Trumbull), Tammy Honesty (former instructor at the University of Akron's Department of Dance and Theatre), and Julie Whitney Scott (the founder and artistic director of Mine 4 God in the greater Columbus area).
We hope to see you all on November 5 at the Berkman Hall Auditorium to make this a grand success.