Bengali Cultural Society of Cleveland
Presents
Live In Concert Padma Bhusan Dr. L. Subramaniam & Padmashri Kavita Krishnamurti
With an ensemble of traditional Indian instruments and orchestra
In collaboration with the Lakshminarayana Global Music Festival celebrating the 75th year of India's Independence "Azadi ka Amrit Mahotsav"
---
A BCS Golden Jubilee Celebration Event
August 20 at 7pm
Maltz Performing Arts Center
Case Western Reserve University
1855 Ansel Rd, Cleveland, OH 44106
---
The Bollywood & Beyond concept has been curated considering the two different types of music blending together and bringing the flavors of Indian music to the audiences. Kavita-ji will start the concert with her famous Bollywood numbers followed by Dr. Subramaniam performing his original fusion compositions which are based on Indian raagas and performed with Indian and western instruments. Towards the end, both Dr. Subramaniam and Kavita ji will collaborate for compositions with voice with some really interesting alaaps and trade offs.
About the Performers
Dr. L. Subramaniam
"L. Subramaniam is the best this listener has heard…" -THE NEW YORK TIMES
"The God of Indian Violin" TIMES OF INDIA, Mumbai
"I find nothing more inspiring than the music making of my very great colleague Subramaniam. Each time I listen to him, I am carried away in wonderment," said Lord Yehudi Menuhin.
Violinist/Composer, and creator of the Global Fusion concept, Dr. L. Subramaniam has performed/recorded Carnatic Classical Music, Western Classical Music, & also composed for & conducted Orchestras, scored for films, collaborated with a wide range of some of the greatest musicians, from different genres of music.
He completed his MBBS from Madras Medical College and has been awarded with many honorary doctorates for his contribution in the field of music. He completed his thesis on Raga and Harmony and received his Ph. D. He is also the founder/director of the Lakshminarayana Global Music Festival (LGMF), the biggest global music festival in India, and the Subramaniam Academy of Performing Arts (SaPa), a premier institute for musical education. He is also the founder chairman of the Lakshminarayana Global Centre of Excellence (LGCE) with his wife Kavita Krishnamurti Subramaniam. The LGCE in collaboration with Jain University & Vishwakarma University is offering Music Honors degrees.
Kavita Krishnamurti Subramaniam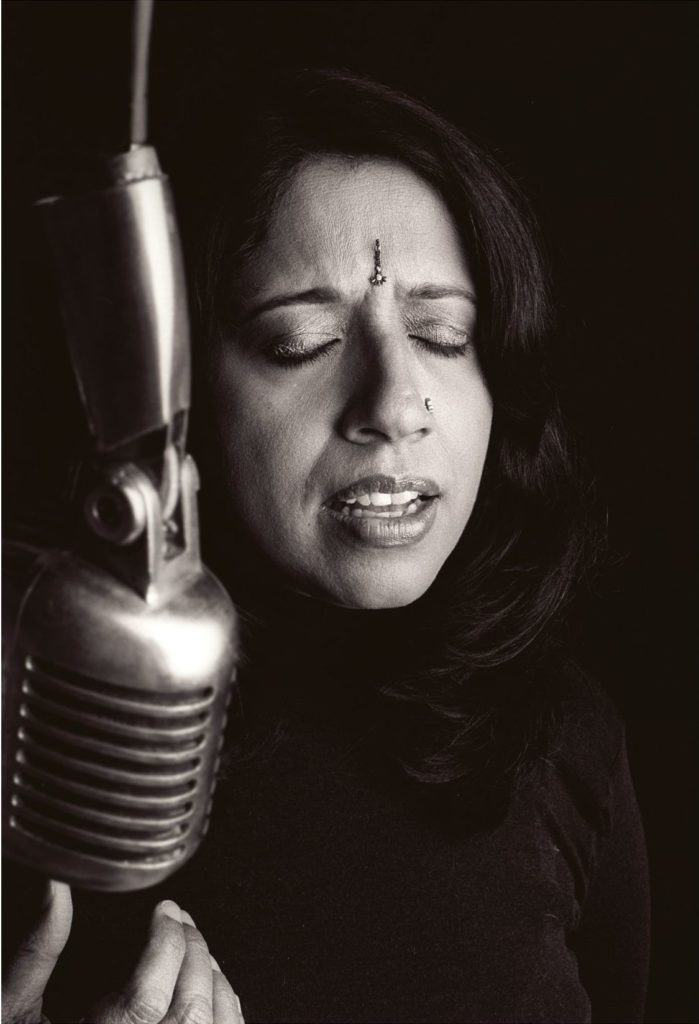 Undoubtedly one of the favorites of the critics and the masses, Kavita Krishnamurti Subramaniam's singing career reads like a fairy tale. Her exquisite and mellifluous voice, wide range and, versatility to sing different styles and types of songs has put her in a unique place amongst singers and she has been quoted as a "melody queen" by leading critics and connoisseurs alike.
Although primarily a playback singer, Kavita has not allowed herself to be limited. She has sung with orchestras as a soloist, she has collaborated with Western artists from the Jazz, Popular and Classical fields.
Kavita's undaunted efforts to excel in the field of singing have brought her several accolades, and a large fan following globally. She has received several awards and honors, including the coveted Padma Shri from the President of India, A. P. J. Abdul Kalam in 2005. Prestigious awards include three consecutive Film Fare awards –a feat rarely achieved. She won the "Best Singer of the Millenium" award at the Stardust Millennium 2000 Awards.
Kavita has explored and expanded her artistic range to areas which have never been explored by playback singers before. She was the main featured soloist in the Global Fusion album released by Warner Bros., featuring musicians from five continents. Kavita has sung as a soloist with orchestras like the Beijing Symphony Orchestra, Leipzig Philharmonic, London Symphony Orchestra and Liepajas Symphony Orchestra.
Kavita Krishnamurti Subramaniam is one artist who has managed to prove herself in every musical field which she has chosen to enter, and has enthralled and dazzled audiences from around the world with her stage performances, recordings and playback singing for the past fifty years, singing more than 20,000 songs in almost all the Indian languages.