April 23-24 Online Event
While "Together We Will Keep It Flowing" was an in-person event, the following weekend we had an online celebration for the Global audience. We took advantage of the pandemic-induced familiarity of online events among viewers and allow attendees to Remember, Reconnect, and Rejoice with us. This event was a virtual meeting ground of ex-Clevelanders, invited celebrities, and general attendees interested in learning more about Bengalis in North-East Ohio and their contribution to the community-at-large. Specifically, we had cultural programs incorporating multiculturalism in dance, music, and theater, panel discussions in arts and literature, challenges and opportunities for the next-generation, and recognition of the contribution of personalities among the Bengali diasporas.
Click the button below to watch the programs on-demand
Kinjal Live and Closing Program Not Available
---
Programs At A Glance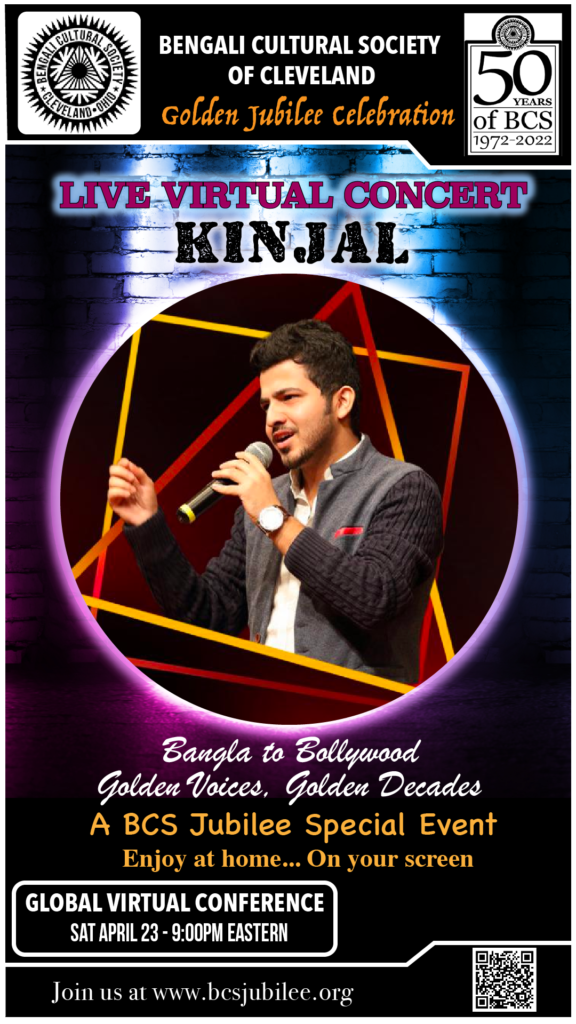 program details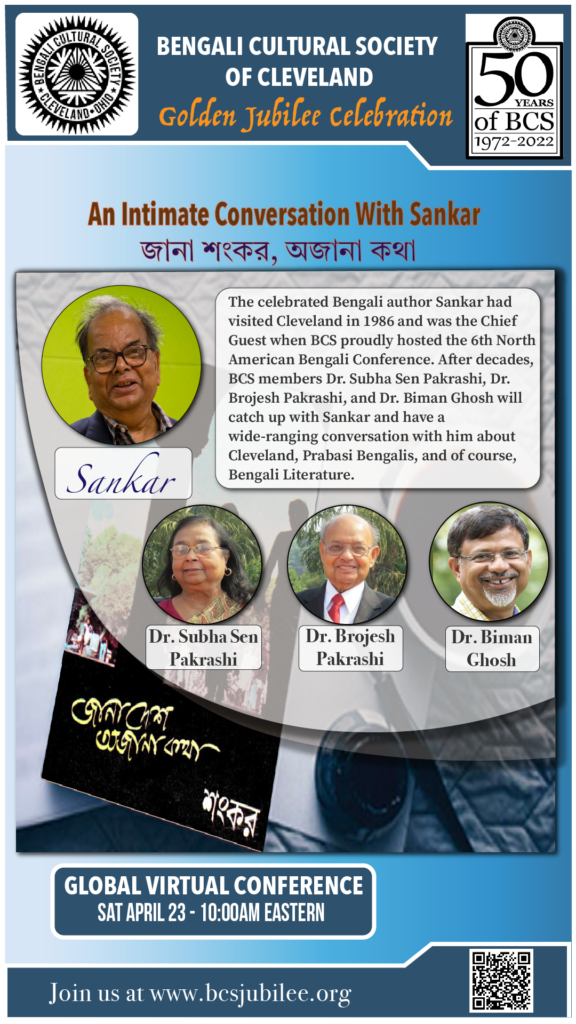 program details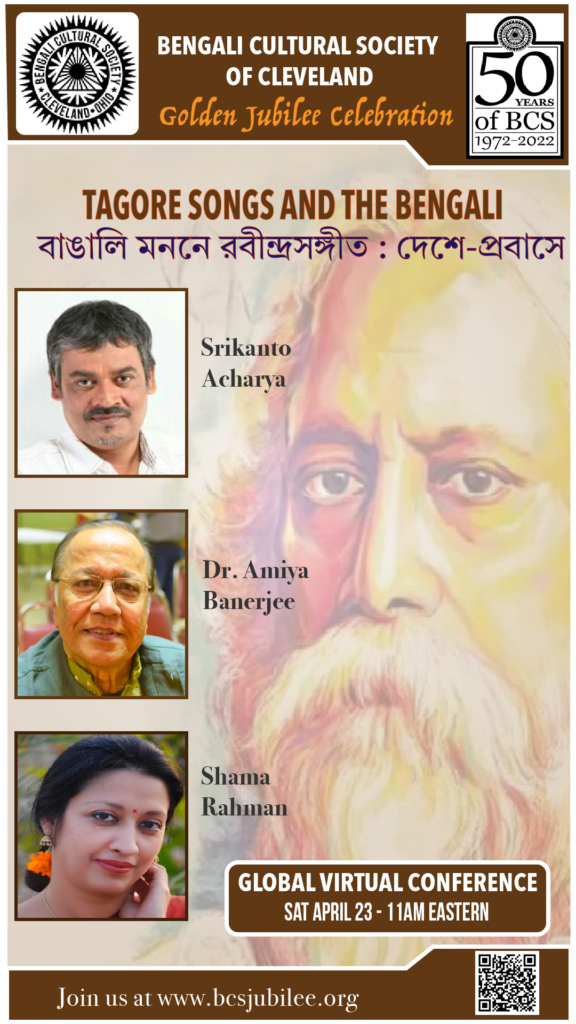 program details
program details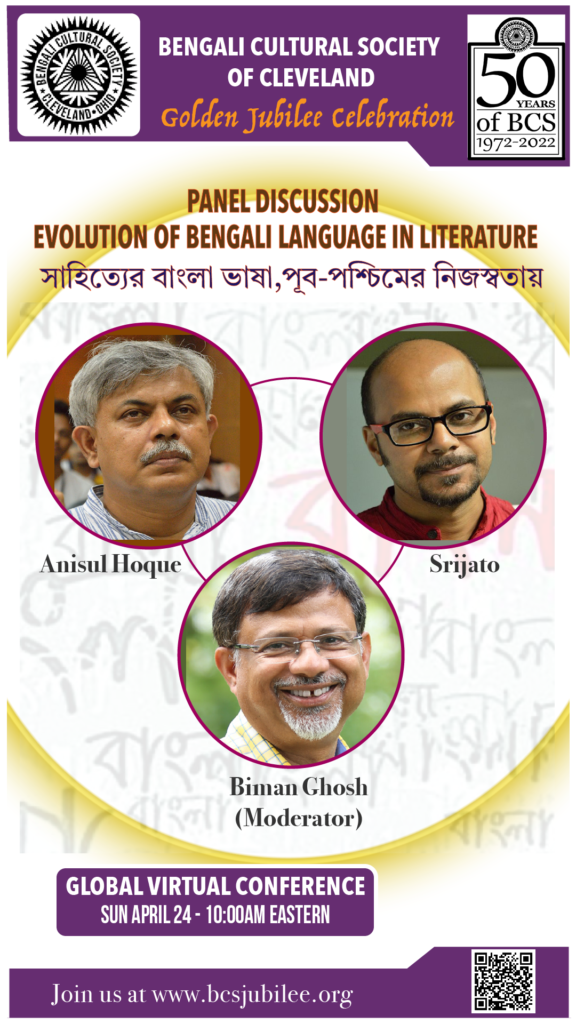 program details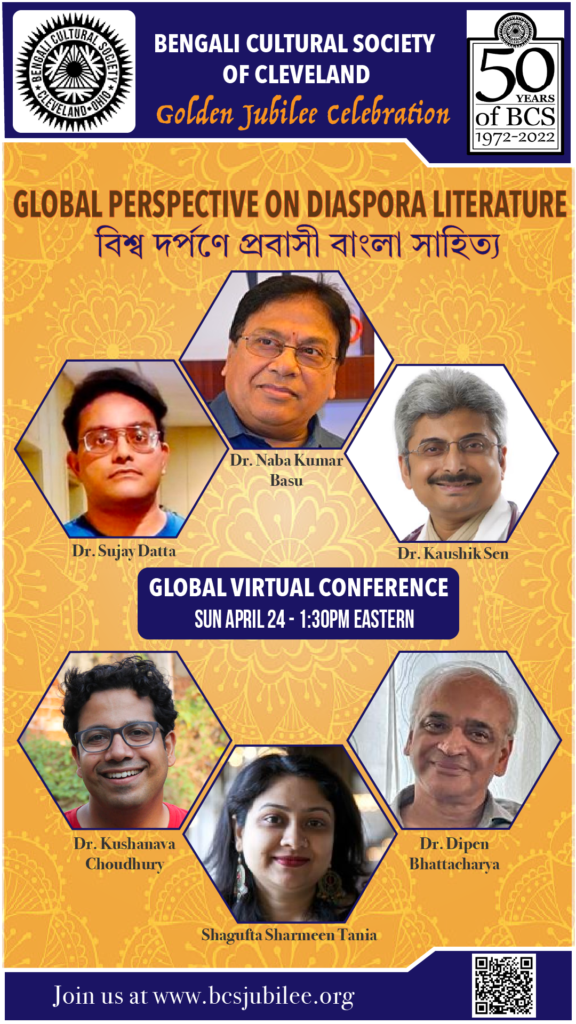 program details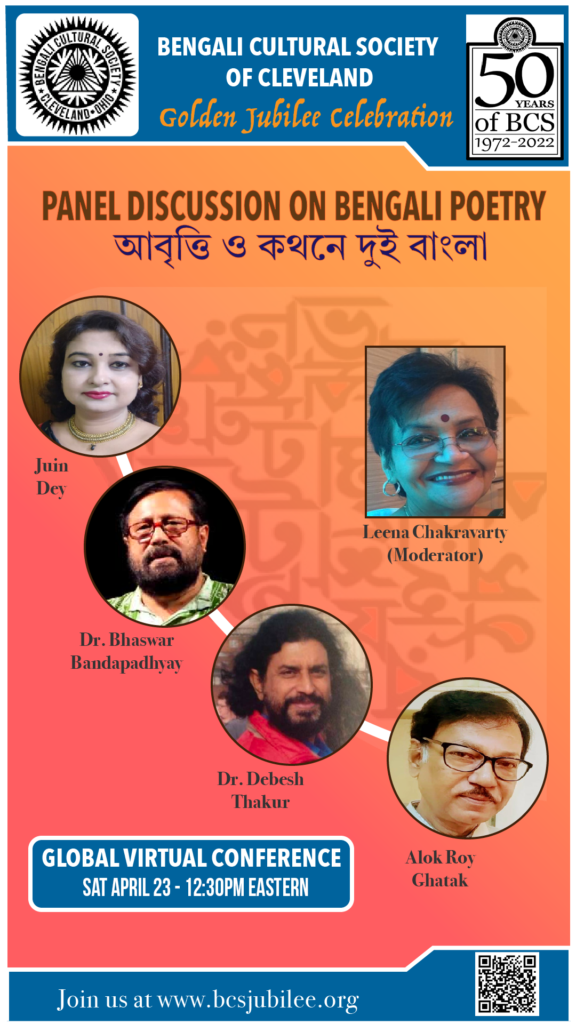 program details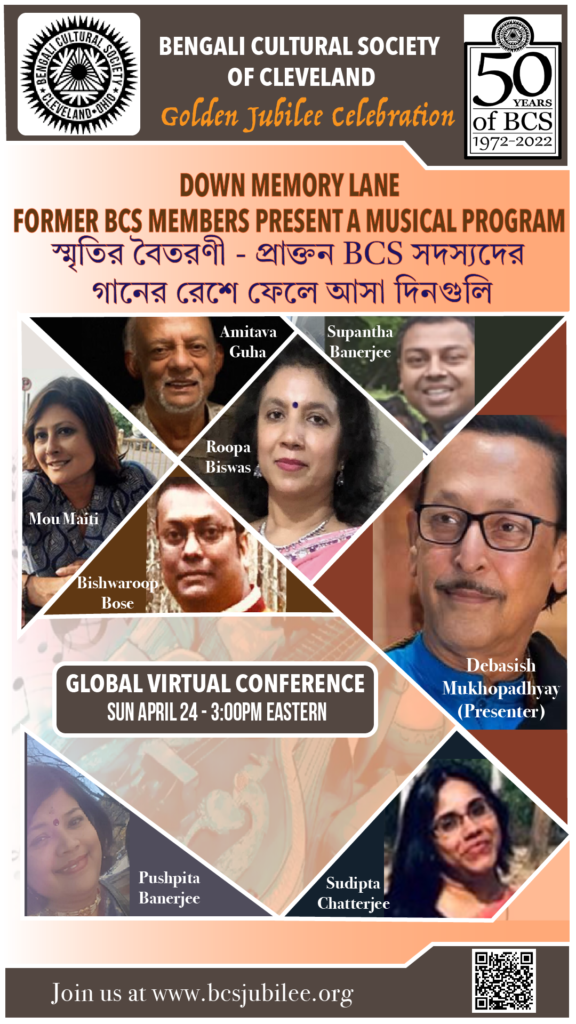 program details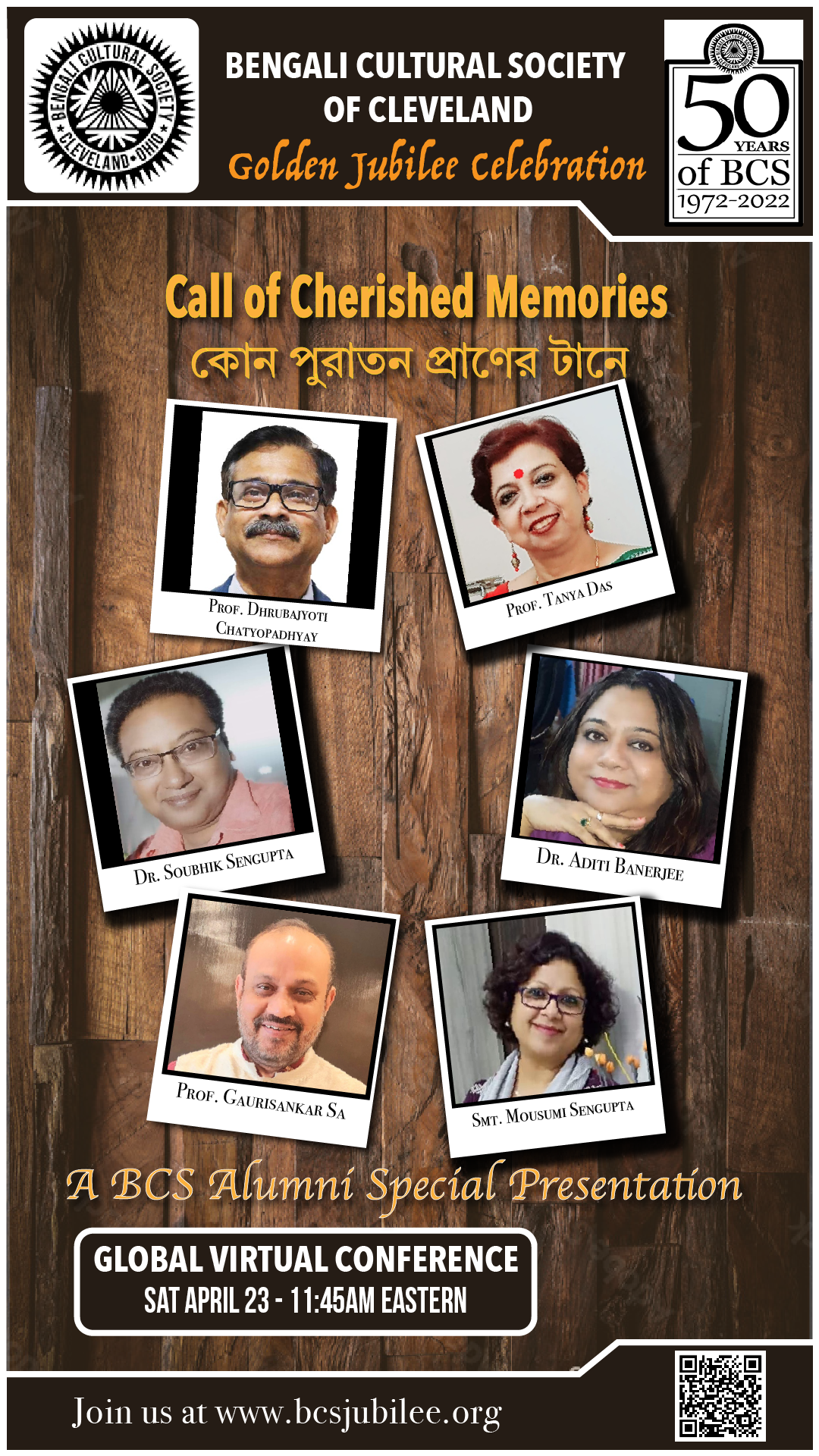 program details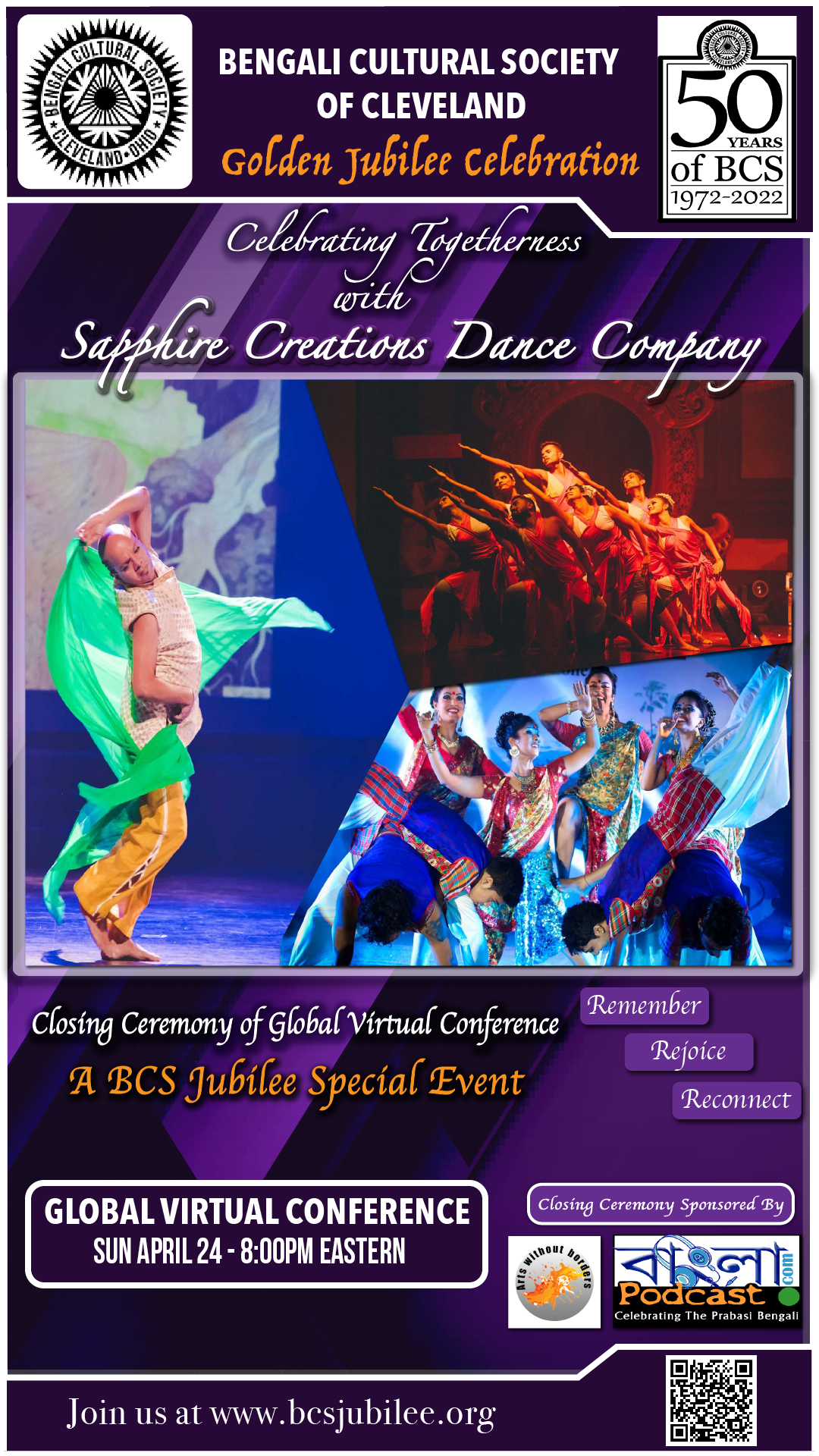 program details
Live Virtual Concert by Kinjal
Saturday April 23, 2022 9:00p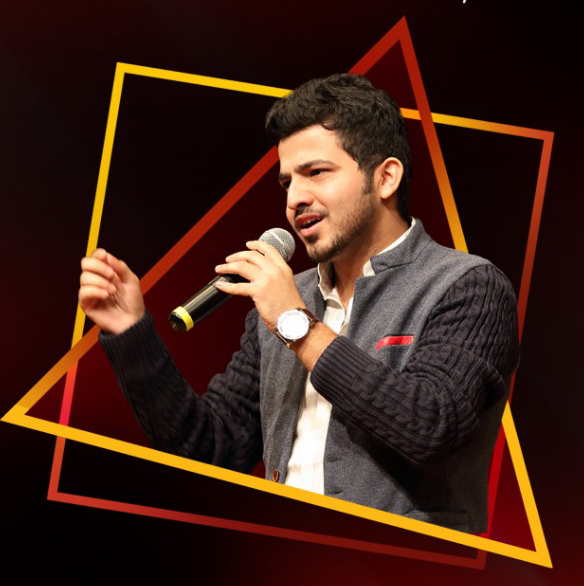 A BCS Special Virtual Concert – Bangla to Bollywood – Enjoy the Golden Decades and the Golden Voices of Indian Music in this live presentation by Kinjal Chatterjee. He is a very popular vocalist in almost all the TV channels of Kolkata and participates regularly in Tara Muzik, Zee Bangla, Akash Bangla, R Plus, Channel Ten, etc. beside his considerable stage performances. Kinjal impressed the judges and won many fans in the latest edition of hindi SaReGaMaPa.
জানা শংকর, অজানা কথা (An Intimate Conversation With Sankar)
Saturday April 23, 2022 10:05a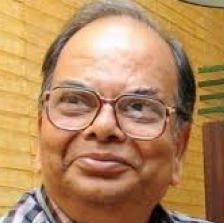 The celebrated Bengali author Sankar had visited Cleveland in 1986 and was the Chief Guest when BCS proudly hosted the 6th North American Bengali Conference. After decades, BCS members Dr. Subha Sen Pakrashi, Dr. Brojesh Pakrashi, and Dr. Biman Ghosh will catch up with Sankar and have a wide-ranging conversation with him about Cleveland, Prabasi Bengalis, and of course, Bengali Literatures.
বাঙালি মননে রবীন্দ্রসঙ্গীত : দেশে-প্রবাসে (Tagore Songs and The Bengali)
Saturday April 23, 2022 11:00a
The eminent panelists will be discussing about how Tagore songs are an integral part of the Bengali heart and soul. They will talk about how to keep this love for Tagore alive in future generations and their own efforts regarding this.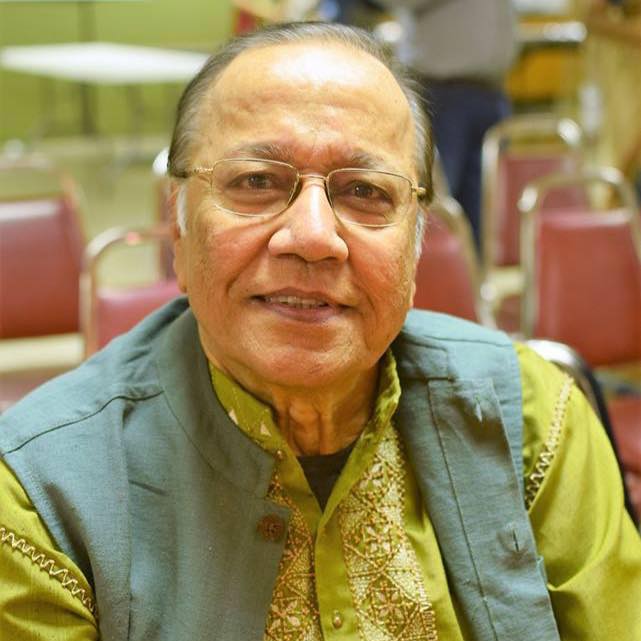 Dr. Amiya Banerjee – He is a world-renowned virologist and former Chair of Molecular Biology at Cleveland Clinic. He is also an internationally famous Bengali singer specializing in Tagore songs. He is a direct disciple of legendary Indian singer Debabrata Biswas.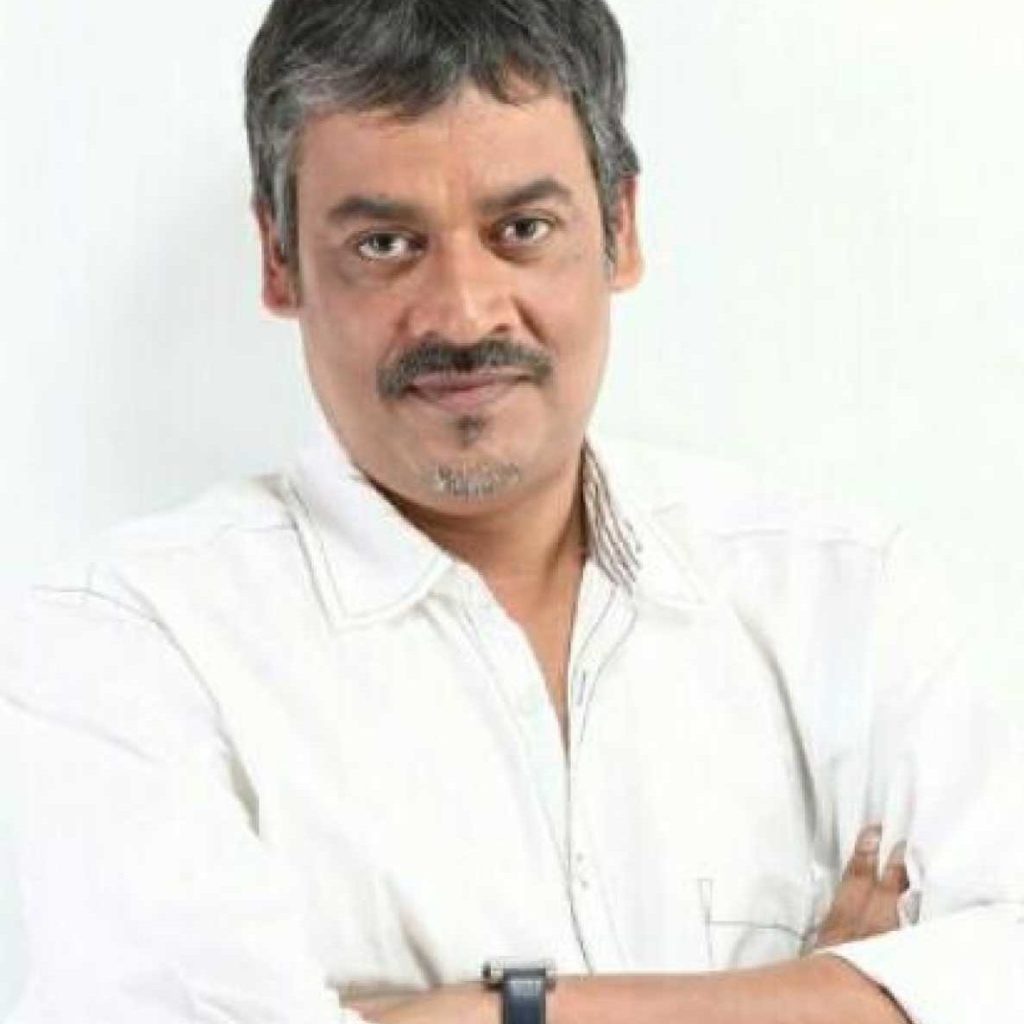 Srikanto Acharya – He is is a Kolkata-based modern Bengali singer-songwriter and music director. Srikanto was born in Kolkata, India and is son of Rohini Nandan Acharya and Kana Acharya. He got formal training in Rabindrasangeet from Dakshinee. He also got trained in tabla from Ustad Ali Ahmed Khan. Srikanto Acharya is now a household name across the world among audiences who listen to Bengali music. He has more than 30 studio albums to his credit.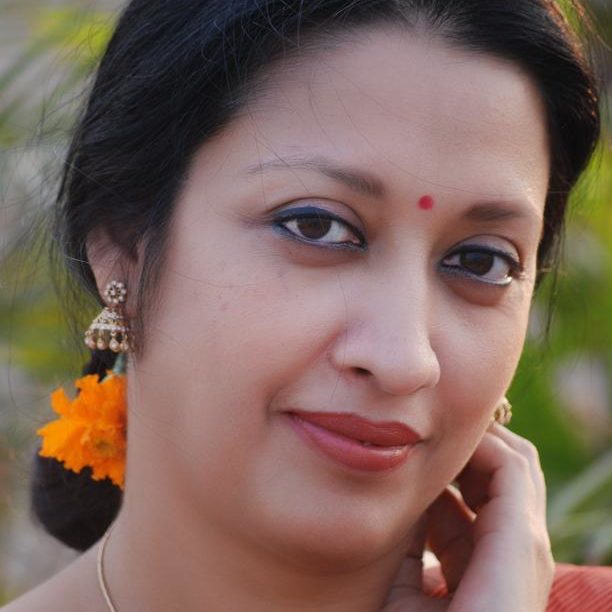 Shama Rahman – She is one of the leading contemporary Tagore artistes and has carved a niche through her devotion to her medium, with her soft lilting voice. Her deep understanding of Tagore's lyrics and tunes has won her fans at home and abroad. Shama is greatly inspired by all the categories of compositions in Rabindranath's Geetbitan and feels that every composition of his, reflects a moment in our lives. Talented yet humble Shama Rahman sings to the audiences worldwide. Apart from concerts in Bangladesh, Shama performs regularly overseas in the Canada, US, UK, Italy, France, Switzerland and India.
বাংলা নাট্যজগতের বিবর্তন – ফিরে দেখি পঞ্চাশটি বছর
Saturday April 23, 2022 2:00p
Evolution of Bengali Theater World – A Fifty Year Lookback – Stage theater has always been the heart and soul of Bengali culture. In line with the Golden Jubilee anniversary of BCS, Parthapratim Deb and Debshankar Haldar, eminent theater personalities from West Bengal, will highlight and discuss the evolution of Bengali stage theater over the last 50 years.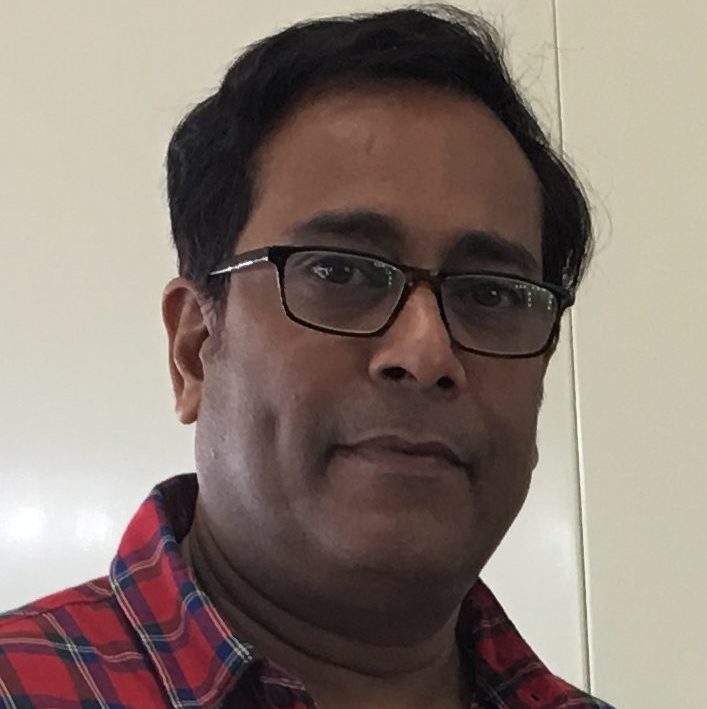 Debshankar Haldar – He is an extremely popular and versatile Bengali actor with a long career in various Bengali theatre groups such as Nandikar, Rangapat, Natyaranga, Sudrak, etc. and has also worked in many feature films. In 2015 he received the Sangeet Natak Akademi Award. Halder is also one of the leading theater trainers and has written and directed over 40 children's plays.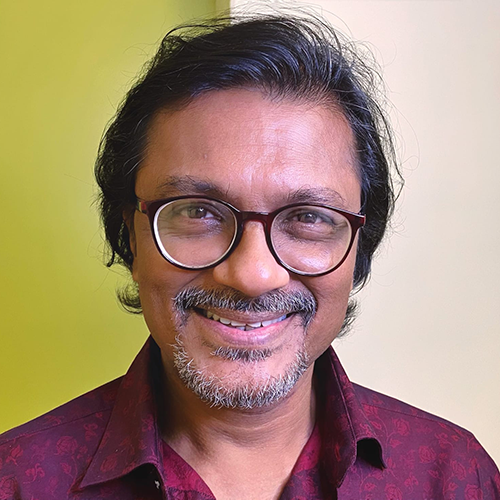 Partha Pratim Deb – He is an actor and singer and associated with one of India's renowned theater group Nandikar and is also the dramatics teacher of Ashok Group of Schools. He regularly holds theater workshops with differently abled children in Kolkata and has directed over 50 short plays for school children. He has been an actor with Nandikar since 1986 and has been both theater director and music director.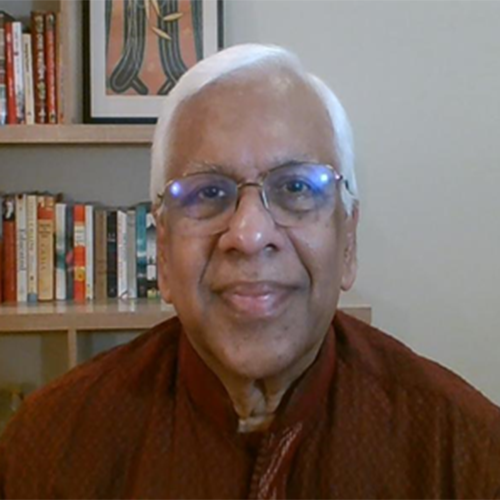 Shyamal Roy – He is an avid theater lover and enthusiast living in San Francisco. He had a few dollars in his pocket and a passion for theater in his heart, when he landed in Cleveland as a graduate student in 1981. He stayed there for 12 years and acted and directed several plays. Currently, he is a board member of the theater group, Bay Area Amateur Thespians based in San Francisco. He continues to act and direct on stage as well as audio plays. In 2019, long before Covid came, he directed and acted in Rabindranath's Shesher Kobita performed online, with casts and crews from his alma mater IIT Kharagpur, located in seven cities in three countries. He counts that one his best theatrical achievements.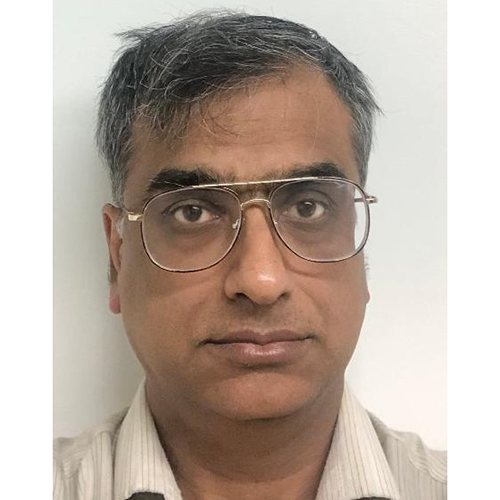 Pallab Bhattacharyya – He is an MRI physicist by profession, and loves mathematics, drama, sports and music. He especially enjoys working with children (as young as three years) and teenagers as director of Bengali dramas.
সাহিত্যের বাংলা ভাষা,পূব-পশ্চিমের নিজস্বতায়
Sunday April 24, 2022 10:00a
Panel Discussion – Evolution of Bengali Language in Literature. In this program, eminent panelists from Bangladesh and India will delve into the influence of words derived from other languages as well as the impact of other social changes on the evolution of Bengali Literature in the past few decades. The discussion will also feature how the subtleties of regional variations from both sides of the border are shaping the language for current generations.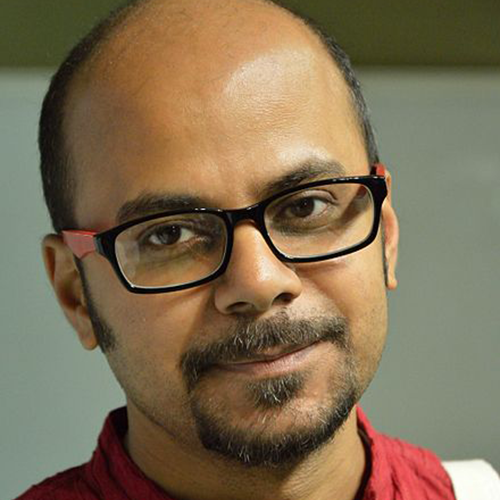 Srijato – He is a celebrated poet of the Bengali younger generation from India. Srijato won the Ananda Puroskar in 2004 for his book Udanta Sawb Joker: All Those Flying Jokers. In 2014, he won the Filmfare Awards East for Best Lyricist for the song 'Balir Shohor' from 'Mishawr Rawhoshyo'.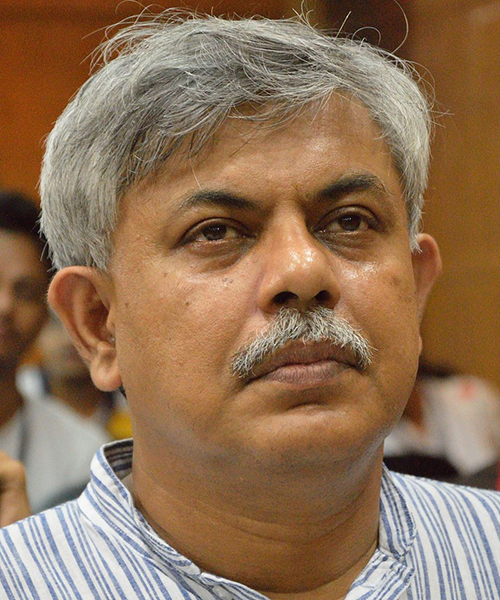 Anisul Hoque – He is one of the most prominent contemporary writers in Bangladesh. He has published more than 70 books and is the Editor of Kishor Alo and Associate Editor of the Daily Prothom Alo. His most famous novels include Maa (Freedom's Mother), Ayesha Mangol (The Ballad of Ayesha), Phaand (the Trap). He won the Bangla Academy Award for Literature in 2011 and was a nominee for the best screenplay at Asia Pacific Screen Award, Australia. His works have been translated into English, Japanese, Spanish, Arabic, Odia, Persian, Hindi.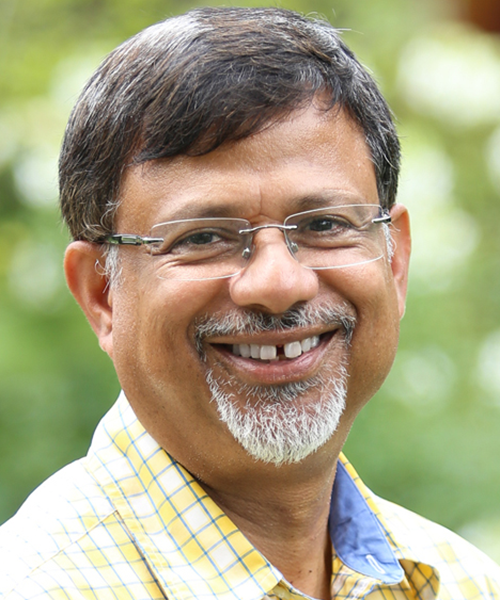 Biman Ghosh (Moderator) – An engineer by profession and a Kishnanagarian Bengali, Biman Ghosh stands distinct in his fervid zest for travel and art history. His undying love for Bengali literature and traditions connects him warmly with the local Bengali organizations. His passion for Bengali literature has had its extension to inspiringly volunteering promotion of Bengali art and culture. Biman feels inclined to maintain close connections with literary advocates from Bengal and Bangladesh and that, in turn, adds to his love and enthusiasm for literature from both sides of the borders.
Panel Discussion: A Global Perspective on Diaspora Literature
Sunday April 24, 2022 1:30p
Be it literature, music, dance or cinematography, there is always a penchant among the Bengali diaspora for attempting creative work that is related to their roots. For some, it is just a way of remaining in touch with their motherland culturally. For others, it is a passion that keeps them afloat and warms their souls as they are consumed by the mundane pursuit of their professional dreams day after day. And then there are those for whom it is an avenue to instant fame and recognition among the netizens of the social media domains.
In doing so, they enrich and are themselves enriched by the prevailing sociocultural environment of their adopted homeland. These inter-cultural cross-currents become a constant source of creative innovation to them. The question remains, though, as to what kind of effects this cross-cultural exchange has on the descendants of first-generation immigrants. Are these effects persistent or ephemeral? Does it play an important role in shaping their minds and intellect? Does it penetrate deep enough into the existing culture of the host nation to change it significantly? Also, in its zest to connect with the roots by conquering geographical separation with creativity, does the diaspora end up compromising on quality?
We will explore these questions in the context of literature in a panel discussion involving a number of eminent panelists.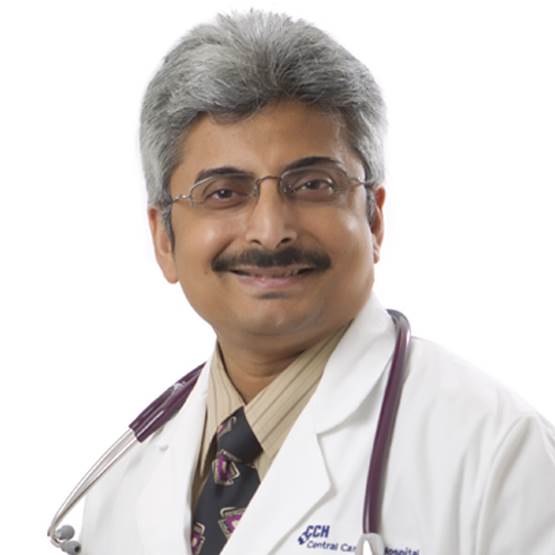 Dr. Kaushik Sen – an oncologist based in Durham, North Carolina, he is also an eminent author in Bengali whose stories and novels have frequently appeared in elite magazines such as 'Desh' and 'Anandabazar' as well as numerous magazines here in the US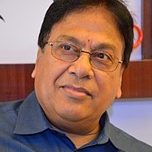 Dr. Naba Kumar Basu – UK-based internationally acclaimed Bengali writer and a medical doctor by profession, he burst into the Bengali literature scene in 1977 with a short story in the prestigious 'Desh' magazine, followed by a serialized novel "Parabaas", and has subsequently written many popular biographical novels which have brought him quite a few literary accolades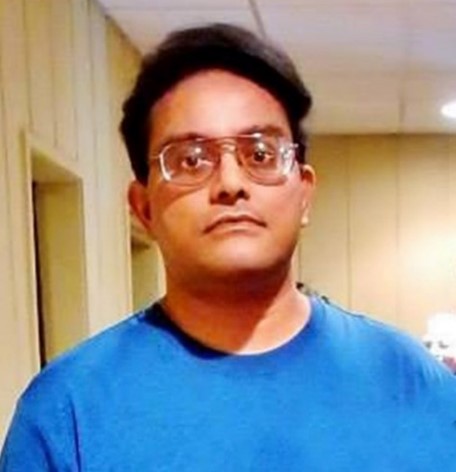 Dr. Sujay Datta – a mathematical statistician and biostatistician by profession, he has been a prolific writer of Bengali prose and poetry in the last 16 years, with his creations appearing in numerous magazines and webzines in the US, the UK as well as Australia and earning him the Gayatri Gamarsh Memorial Literary Award from New Jersey.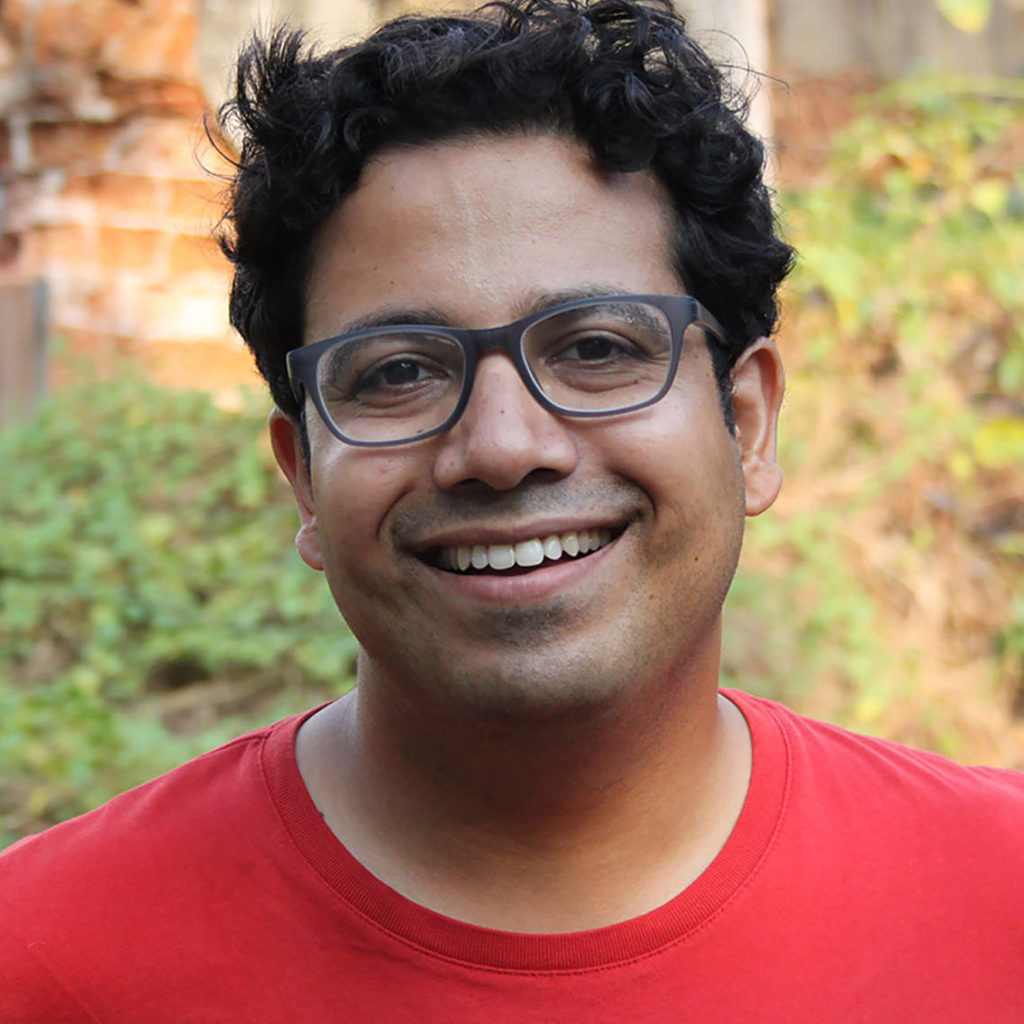 Dr. Kushanava Choudhury – born in Kolkata and having grown up in New Jersey, he graduated from Princeton University and worked as a reporter for the Statesman – a well-known newspaper in India. He went on to receive a PhD in political theory from Yale University before returning to Kolkata and writing a widely acclaimed book about the city – "The Epic City")
Shagufta Sharmeen Tania – London-based author and a well-known face in Bangladeshi diaspora literature. An architect by training and a math teacher by profession, she is the author of two novels and two short-story collections. She translated Susan Fletcher's Whitbread Award-winning novel, Eve Green, into Bengali and one of her short stories was featured in Wasafiri Issue 84, Autumn 2015. Most of her work focuses on the Asian diaspora. Currently she is working on a historical novel set during the failed Bengal Partition of 1905.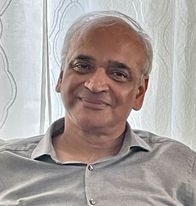 Dr. Dipen Bhattacharya – an astrophysicist of Bangladeshi origin, he is well-known for his fictional works. Currently a professor of physics and astronomy at the Moreno Valley College of Riverside, California, he is the author of four novels and five collections of short stories. He is an eminent science fiction writer. He also has a geological treatise to his credit called "বঙ্গীয় বদ্বীপের অতীত ও বর্তমান।"
আবৃত্তি ও কথনে দুই বাংলা (Panel Discussion on Bengali Poetry)
Saturday April 23, 2022 12:30p
As an integral part of our Golden Jubilee celebration, the BCS Cleveland is delving into recitation, one of the important components of Bengali performing arts. The participants are eminent scholars and acclaimed performing artist from Bangladesh and West Bengal. An interactive scholastic discussion among panelists will shed the glimpse of the progression of Bengali poetry and recitation from both sides of Bengal. Featured Panelists who will join are: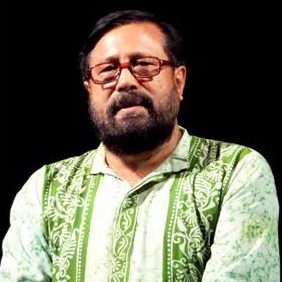 Dr. Bhaswar Bandapadhyay – a renowned elocutionist, actor, theater director of Bangladesh. He received his education in performing arts from National School of Drama, New Delhi & completed Ph D degree from Rabindra Bharati University. His excellence in various fields of the performing arts is well recognized all over the world. In addition, he is recipient of several national awards in various fields of performing arts.
Dr. Debesh Thakur – MA in English and Ph.D on Aesthetics of Charlie Chaplin. He is a poet, play writer & stage performer. He received awards for a novel 'Mon' and Sabyasachi award winner. He teaches Journalism, Mass Communication, and English.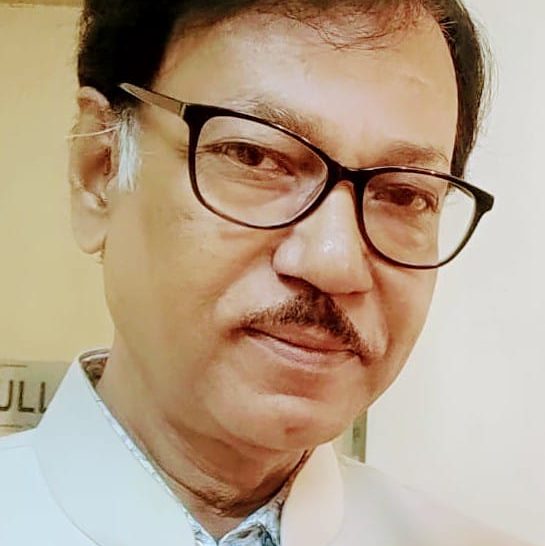 Alok Roy Ghatak – a graded drama artist of All India Radio (Akashbani), Kolkata. He is a founder presenter of FM – Akashbani Kolkata. He acts in Kolkata Doordarshan programs on a regular basis and works for banking service.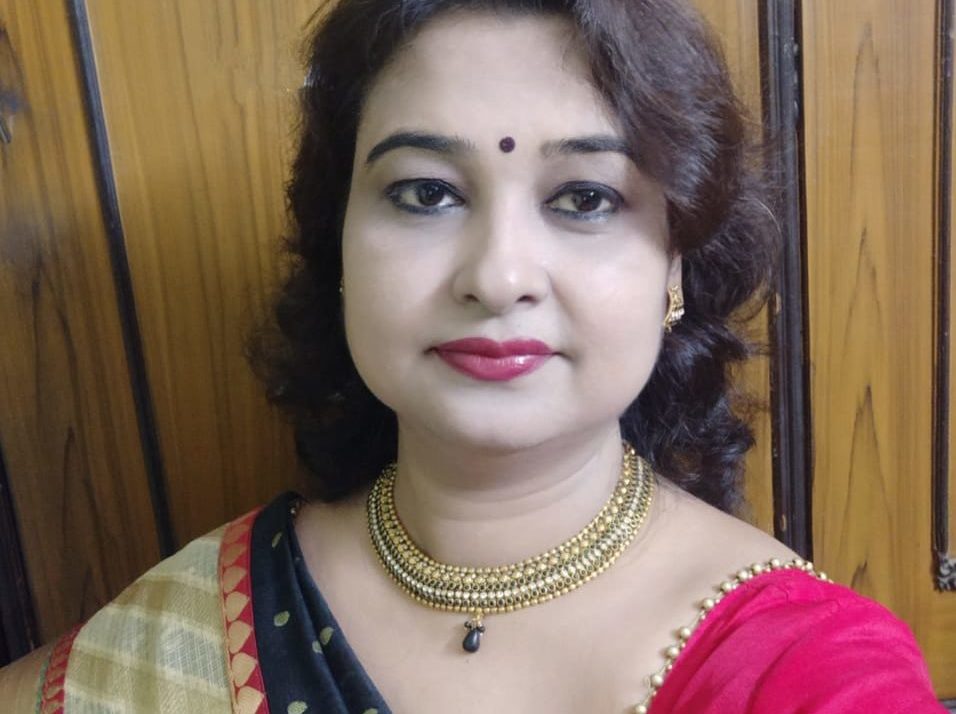 Juin Dey – a passionate teacher and eloquent poem reciter.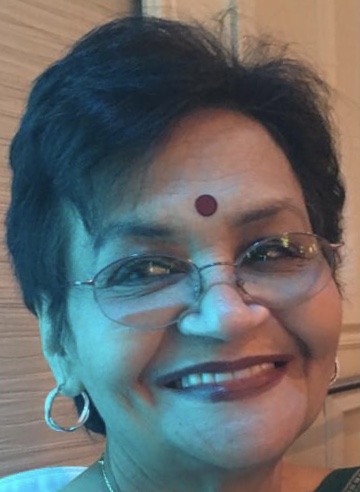 Leena Chakravarty (Moderator) – a Biologist by profession, she teaches at Case Western Reserve University, Cleveland, Ohio. Passionate about music (both classical and Tagore song), recitation, theater play, painting and cooking.
স্মৃতির বৈতরণী -প্রাক্তন BCS সদস্যদের গানের রেশে ফেলে আসা দিনগুলি (Down Memory Lane)
Sunday April 24, 2022 3:00p
Former BCS Members present a Musical Program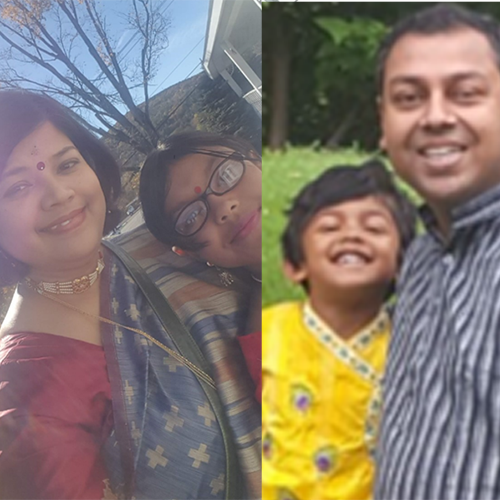 Pushpita & Supantha Banerjee – Puspita, Supantha and family lived in the greater Cleveland area for more than a decade (2008-2018) and made many great family friends. Avid fans of Indian music, they were active members of BCS and contributed to many events through organizing and participating. Presently they live in St. Louis, MO.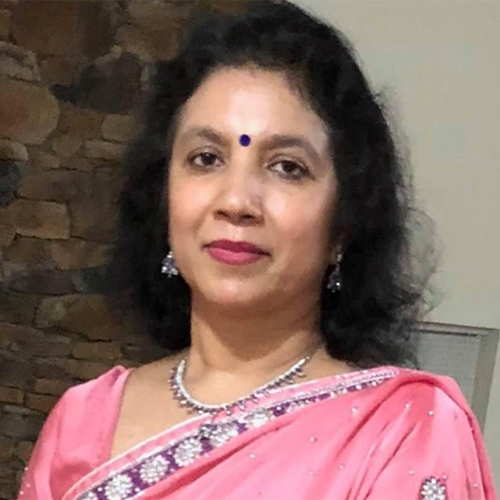 Roopa Biswas – She is a scientist by profession and music is her passion. She was a member of BCS from 2001-2005 during which time she participated in various cultural programs in Cleveland and contributed to the BCS Silver Jubilee celebrations. Roopa now resides in Maryland.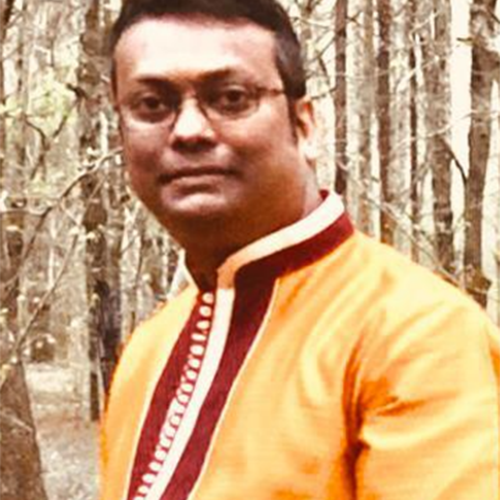 Biswaroop Bose – He was a member of BCS from 2016-2019 but considers himself a permanent fan of BCS. He is an IT Manager by profession and is a music enthusiast and wannabe singer. Biswaroop now lives in Atlanta with family.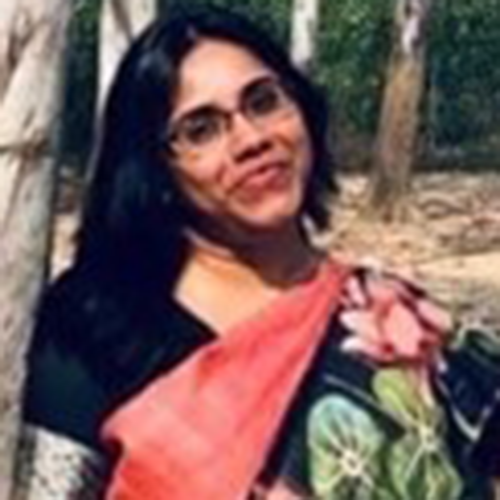 Sudipta Chatterjee – She moved to Cleveland in 2002 after completing her Ph.D in Chemical Engineering from University of Pittsburgh. She was a member of BCS from 2002-2009 and was passionately attached to the organization. Sudipta is a versatile singer of Rabindrasangeet, Nazrulgeeti, Teen Kobir gaan, Palligeeti and Adhunik Bengali/Hindi songs. She currently lives in Kingsport, TN and plans to move to Louisville, KY.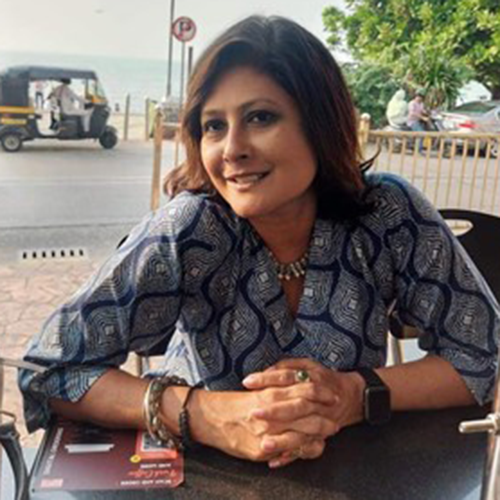 Mou Maiti – She lived in Cleveland with family during 1990–2000. An academician and an international educator, with a passion for teaching & learning, Mou loves teaching Physics in the classroom but what she loves more is nurturing and development of young minds. She has two lovely children and is passionate about life with music being her lifeline and love.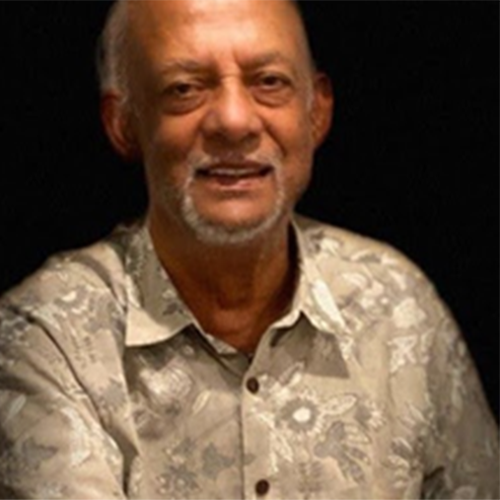 Amitava Guha – He lived in Cleveland with his family for 24 years (1978-2002) and cherishes many fond memories! He serve as the President of the BCS in the early 1980s. To commemorate the milestone occasion of BCS Golden Jubilee, Amitava has chosen a Rabindrasangeet, which Tagore composed in 1884. The song has special significance in today's hostile world as a messenger of peace. Amitava now lives in Berkeley, CA.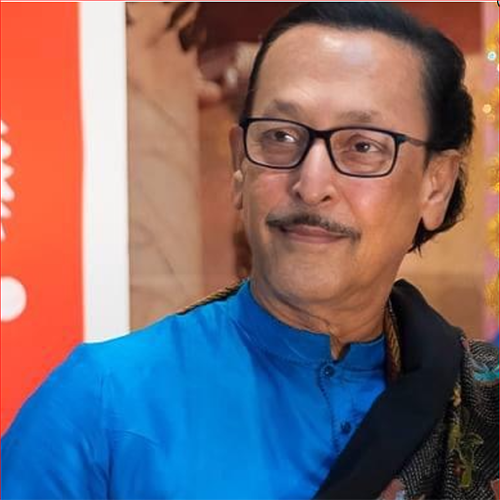 Debasish Mukhopadhyay (Presenter) – He is an active BCS member and has been living in Cleveland with his family since 1998. Debasish works for Rockwell Automation and loves karaoke singing and playing contract bridge.
কোন পুরাতন প্রাণের টানে (Call of Cherished Memories)
Saturday April 23, 2022 11:45a
A BCS Alumni Special Presentation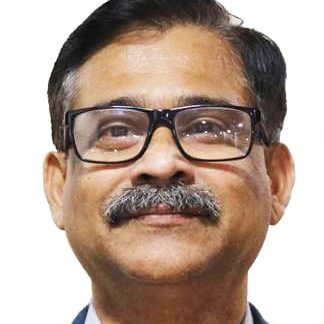 Prof. (Dr.) Dhrubajyoti Chattopadhyay – He is currently the Hon'ble Vice Chancellor of Sister Nivedita University, Kolkata, and was the Founder Vice Chancellor of Amity University, Kolkata. He was Project Scientist in Cleveland Clinic with Dr. Amita Banerjee. Prof. (Dr.) Dhrubajyoti Chattopadhyay is a scientist and academic par excellence. He has an established track record of highly innovative ideas and in-depth research activities. He has an impressive logical approach of delivery and communicating ability. He is a multi-tasking person, whose passions are recitation and singing.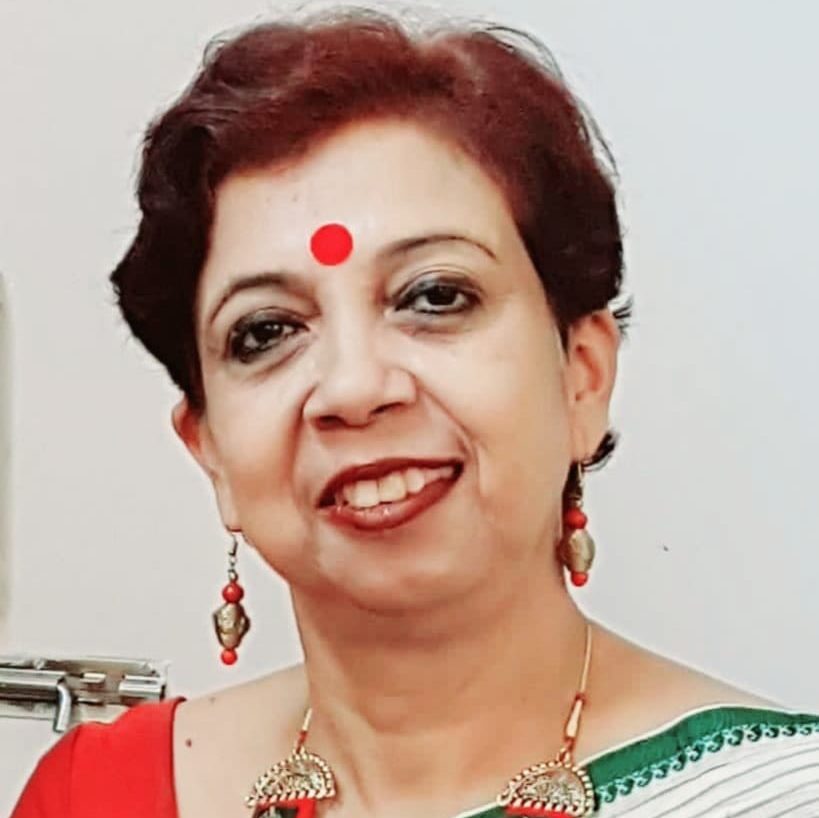 Prof. Tanya Das – She is the ICMR Emeritus Scientist, and former-Dean, Research and Development of Bose Institute, Kolkata. To her – Cleveland is her second home. She is a highly acclaimed Cancer Scientist of India. Being a multi-tasker, Prof. Das is also a renowned Rabindrasangeet singer and Director of famous cultural organization and Rabindrasangeet learning center Aanantya Shilpigoshthi. She was the Cultural Secretary of BCS for a few years during her stay in Cleveland.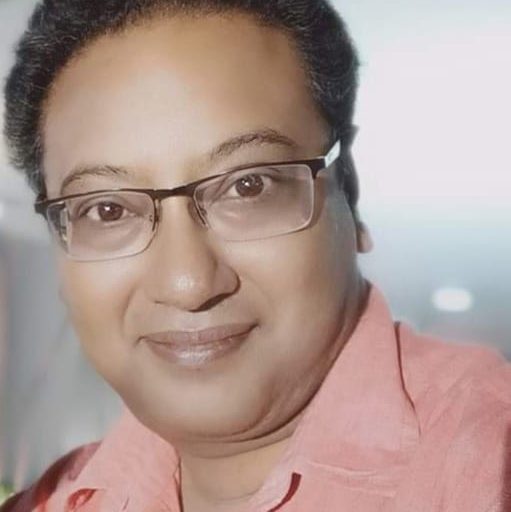 Dr. Saubhik Sengupta – He is currently the Head of the Department of Molecular Pathology in Chittaranjan National Cancer Institute, Kolkata and an ex-Staff at the Section of Gynecological Oncology, Cleveland Clinic. Dr. Sengupta was a News Reader of Bengali News in Doordarshan, Kolkata in the 1990s and a B high grade drama voice in All India Radio, Kolkata from 1991. Dr. Sengupta is also a stage actor and director and formed a Bengali community theater in Cleveland named "Theater Practitioners". The group has performed in many major cities of the US and also has produced and launched " Aajker Lear" and "Kasturi Mrigo Shomo", two major group theater productions in Kolkata.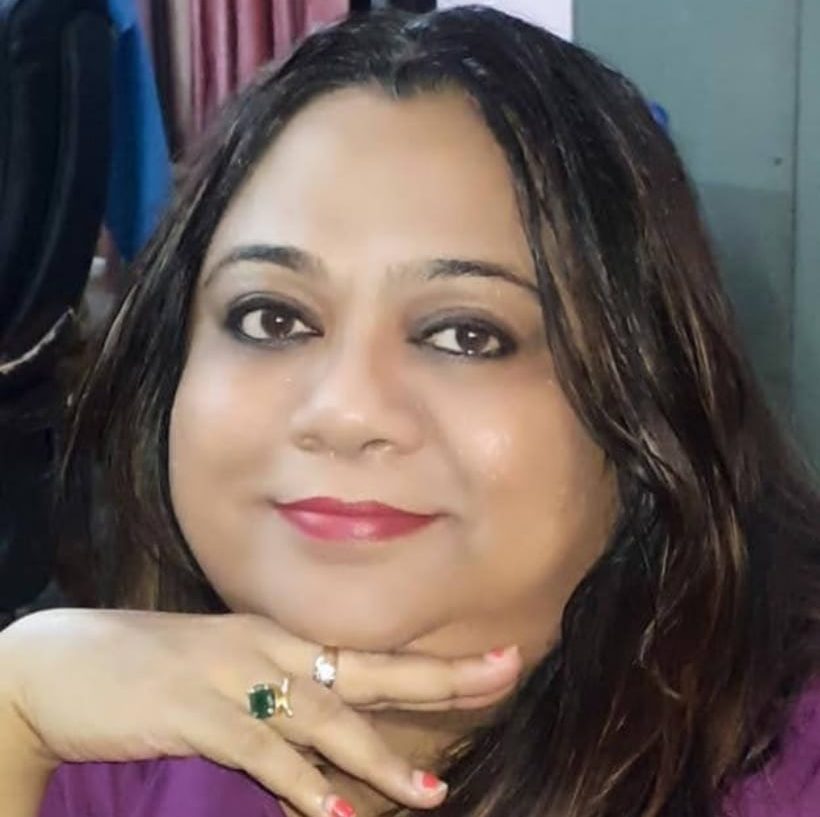 Dr. Aditi Bandyopadhyay – She holds a PhD in Molecular Genetics and has a research career over two decades in India and USA. She has also worked in the field of clinical trial management at Novartis and Sandoz, USA. Her non-academic pursuits include music and writing both prose and poetry.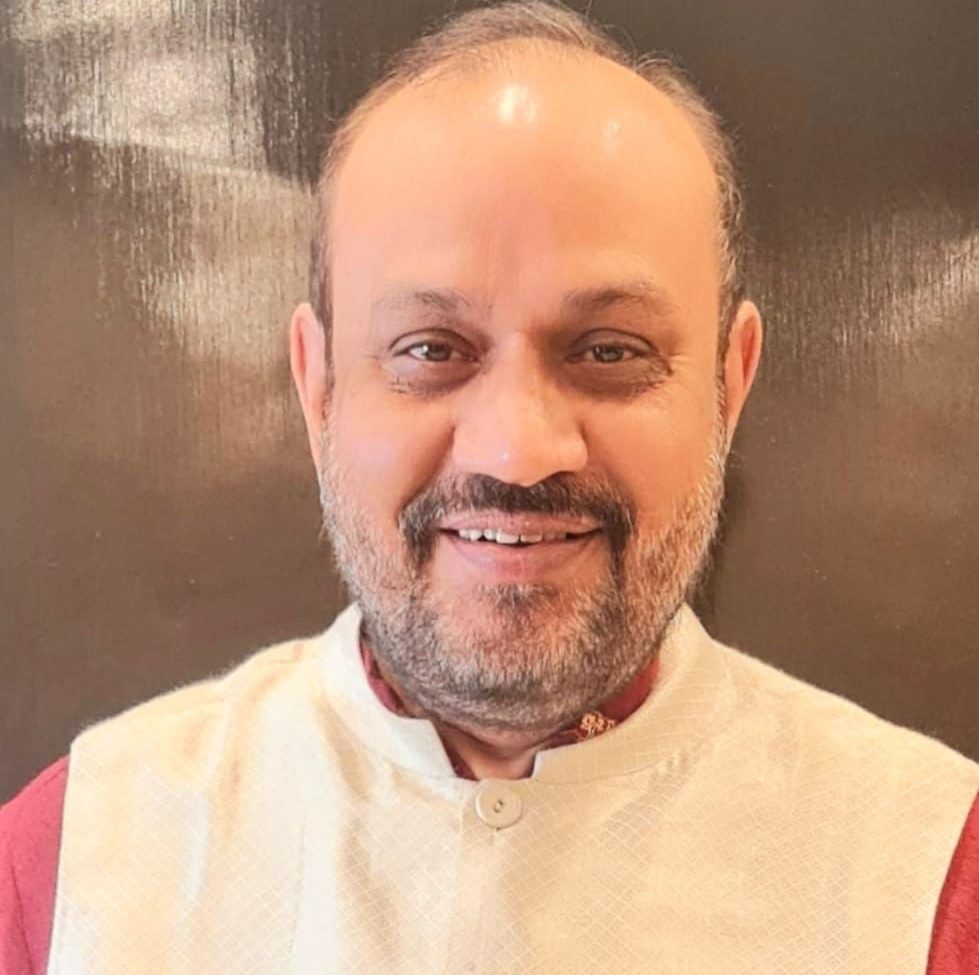 Prof. Gaurisankar Sa – Dr. Sa is National Academy of Science (India) Platinum Jubilee Senior Professor, former Chairman of the Division of Molecular Medicine, Controller of Examination & Executive Chairman of Centre for Translational Animal Research, Bose Institute, Kolkata. He was associated with the Cleveland Clinic from 1992 to 2012. He served Bengali Cultural Association, Cleveland as a Vice-President during 1993-1994.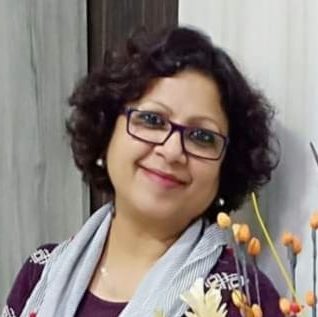 Mousumi Sengupta – She is currently the Managing Director of Precision Medicine Institute, the only genetic laboratory in Eastern India. As an actor, she has performed in all major cities of USA with her recitation, aural drama and stage acting. She has acted in two feature films in Kolkata and has been performing for several group theaters in Kolkata over the last 10 years. She was one of the founders of Theater Practioners in Cleveland and Kolkata and has been a major force in group theater.
Global Conference Closing Ceremony – Celebrating Togetherness
Sunday April 24, 2022 8:00p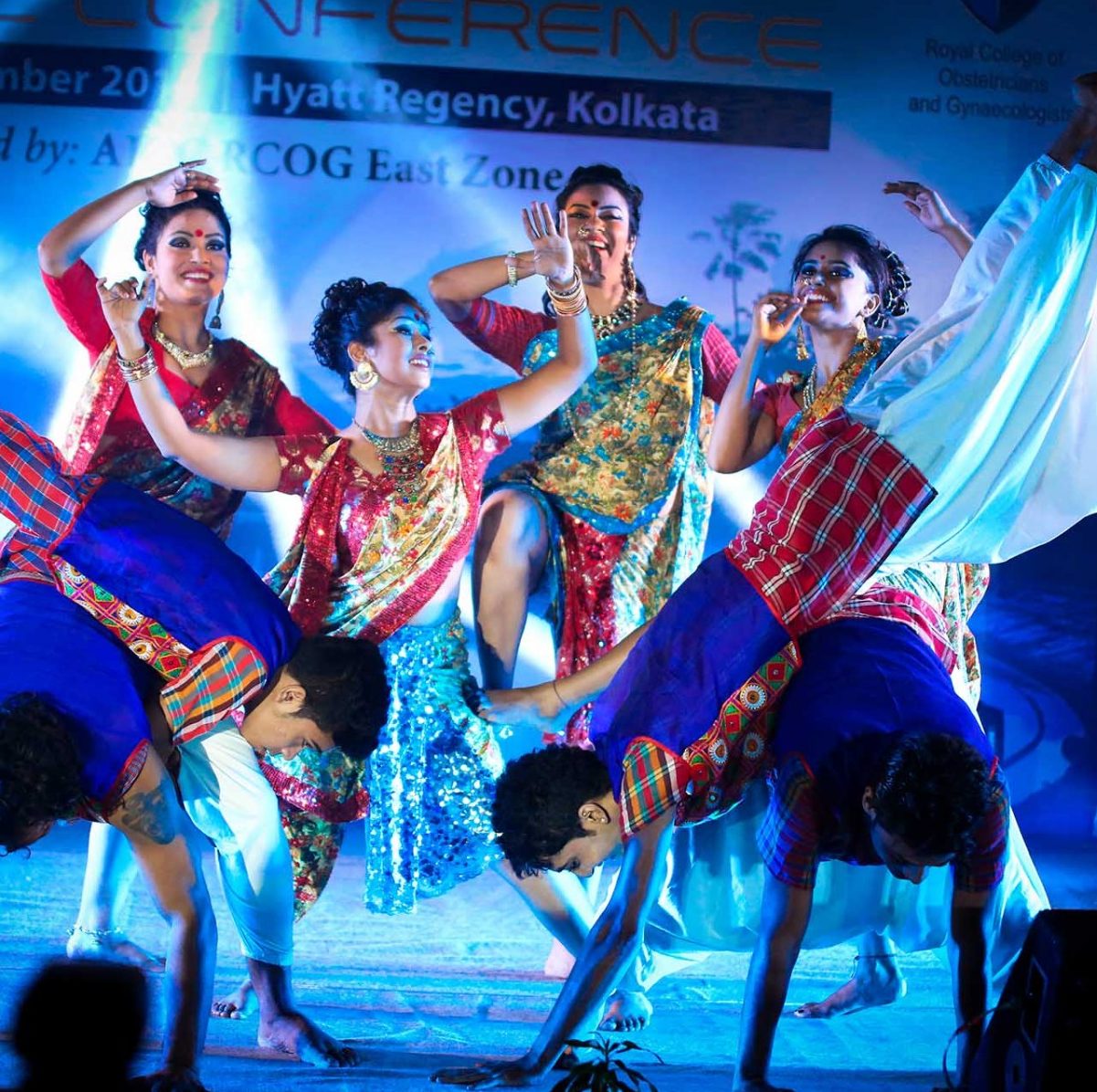 The BCS Global Virtual Conference will come to a close with a spectacular closing ceremony dance performance by Sapphire Creations Dance Company. Sapphire Creations is Eastern India's only experimental dance company striving to develop an organic, radical, dynamic and alternative idiom of movement performing internationally for the last 28 years. Artistic Director Sudarshan Chakravorty is the pioneer of a dynamic experimental form resulting from individual and ensemble mind-body improvisations, with an innovative idiom raising sensitive contemporary issues. This specially commissioned program will celebrate togetherness through glimpses of the rich heritage of Bengal.
Program Sponsors: Arts Without Borders and BanglaPodcast.com