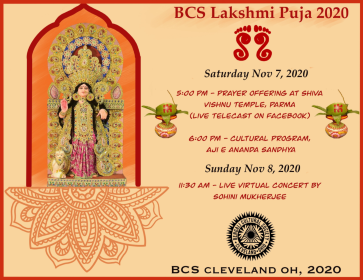 LAKSHMI PUJA
November 3, 2020
BCS Executive Committee
Nov 7, 2020 (Saturday)
5:00 PM – Prayer offering at Parma's Shiva Vishnu Temple. The event will be telecasted live on Facebook.
6:00 PM – Premiere of BCS cultural program "Aji E Ananda Sandhya" . This is a virtual event showcasing the fine talents and artistic side of our own BCS friends and peers.
Nov 8, 2020 (Sunday)
11:30 AM – Virtual Live Concert by SaReGaMaPa star Sohini Mukherjee.
Links to all programs will be sent via email closer to the date.