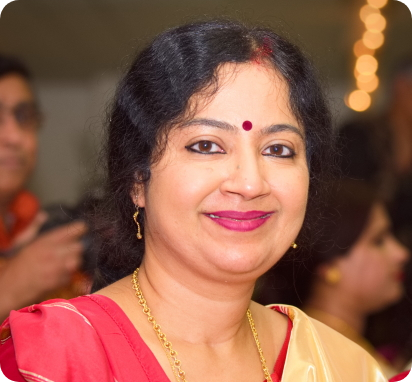 Greeting from Executive Committee
January 2, 2020
Rajlakshmi Ghosh, President EC 2020
The Executive Committee of 2020 wishes everyone a Happy New Year! We thank our community members for giving us the opportunity to serve you this year and look forward to a successful year of fun, festivities and cultural celebrations. BCS community has been growing over the past few years, and the increase in the number of members is reflective of that growth and prosperity. We sincerely believe that BCS community is a family, our family here in Cleveland and we are proud to be part of this growing family. We thank the outgoing Executive Committee of 2019 for their outstanding accomplishments in the past year.
The first event of the year 2020, Saraswati Puja, will be celebrated on February 1st, 2020 (Saturday) at Shiva Vishnu Temple located at 7733 Ridge Rd, Parma, OH 44129. Continuing our long tradition of offering our devotion to the Goddess of Education, we would also have a Sit-n-Draw Competition for the kids in the morning and Children's Performance in the afternoon/early evening. Thank you to all members who have submitted their children's names for participation. Detailed schedule of the day will be emailed to all in due course of time.
We request the existing and prospective members of BCS to pay the membership fees on February 1st, 2020 at the registration desk. Online payment and credit card payments are also accepted. However, we suggest membership fees to be paid with check to reduce transactional fees charged by Square/Paypal to process online and credit card payments.
Thank you.