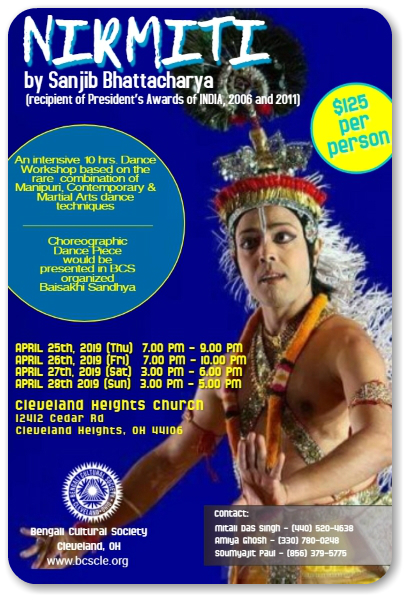 Nirmiti
March 28, 2019
Cultural Secretaries
With great pleasure we take the opportunity to announce a highly coveted dance workshop being organized by BCS on behalf of, dance exponent and guru, Sanjib Bhattacharya.
Aptly titled, Nirmiti, it is a unique training based on the rare combination of Manipuri, Contemporary and Martial Arts dance techniques. Perhaps for the first time Cleveland will witness such an exclusive experience that will provide a great opportunity for dance enthusiasts to learn some extraordinary techniques from the master himself.
Sanjib Bhattacharya will choreograph a piece with the participants and present the same at Baishakhi Sandhya, which in itself is a great feat other than getting to learn from a highly accomplished artist.
The 10 hour intensive workshop is priced at $125 per person and will be held from April 25 – 28 at Cleveland Heights Church, 12412 Cedar Road, Cleveland Heights, OH 44106. Interested participants need to have a basic background in dance to make the most of the workshop.
For the uninitiated, Sanjib Bhattacharya is a two-time President awardee, Dr. APJ Abdul Kalam in 2006 and Smt. Pratibha Patil in 2011. Words fall short while describing this talented composer who has created a name for himself not only in India but also globally. Having performed in different international festivals and collaborated with other well-known artists, around the world, Sanjibda has carved a niche for himself. He has trained under the likes of Guru Bipin Singh, Padmashri Darshana Jhaveri, Kalavati Devi, Manjushree Chaki Sircar and Mamata Shankar and has shared the stage with big names like Padmavibhushan Sonal Mansingh, Padmashri Darshana Jhaveri, Padmashri Ranjana Gauhar, Sadanam Balakrishnan and other eminent gurus
Apart from performances worldwide, Sanjib Bhattacharya also enjoys teaching and runs several dance academies in India and abroad. In addition, he also hosts dance workshops and demonstrations that are very popular and well attended.
Please get in touch with any of our Cultural Secretaries to enroll for this much sought after dance camp before the seats fill out.