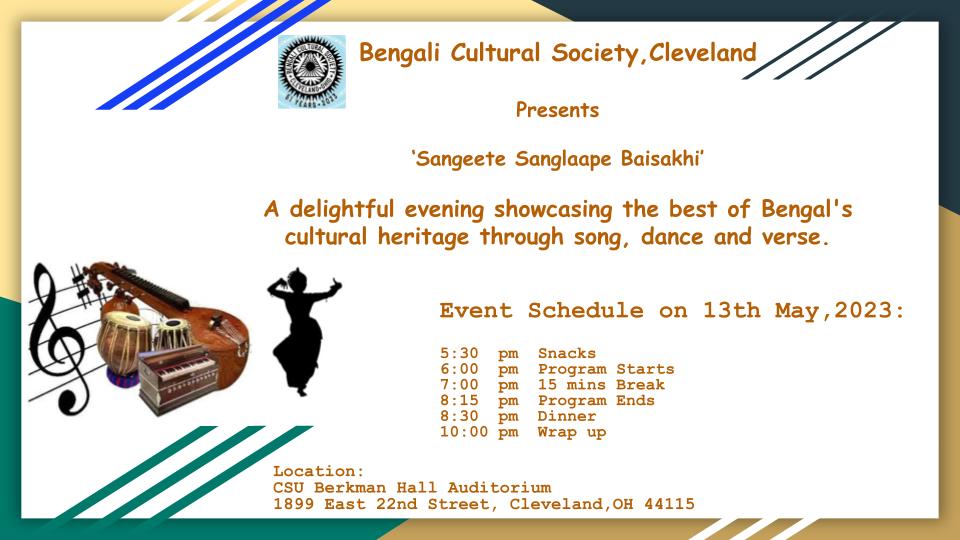 Hello Friends,
Thank you all for a successful Saraswati Puja 2023 event. We're thrilled to announce that preparations are well underway for the upcoming Baisakhi Sandhya event, which is scheduled to take place on May 13th, 2023. We are in the process of finalizing the venue and will share the details in a follow up email.

Baisakhi Sandhya event, a highly anticipated occasion on the BCS calendar. This is an occasion to celebrate the rich cultural heritage of our community. We extend a warm invitation to all interested adult performers to come forward and take part in this year's event. This is a wonderful opportunity to showcase your talent and build camaraderie with other members of the community.
We request you to fill up the form with your interest area. There are multiple categories that include, singing, dance, recitation, musical hands, stage set up help, decoration, makeup artist. If you are interested in multiple categories, then add one line for each interest. Here is the link of the google worksheet-
Participation List – Google Sheets
Our cultural secretaries will refer to this worksheet to prepare a list of performers for the event. Please fill up the form by February 28th, 2023. Direct any queries related to the event to our cultural secretaries given below.
BCS event calendar 2023
BCS – Bengali Cultural Society,Cleveland, Ohio (bcscle.org)
Yours Sincerely,
2023 Executive Committee
Bengali Cultural Society
Cleveland, OH