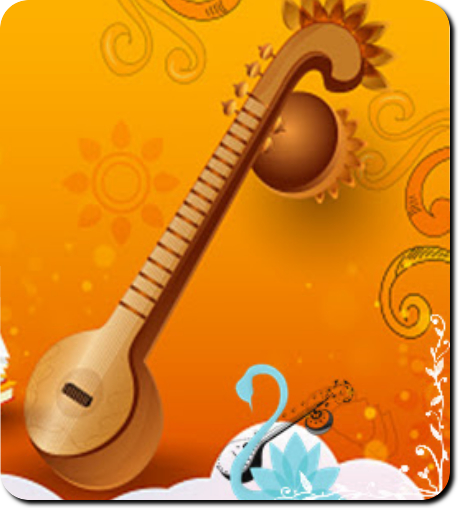 Saraswati Puja
January 22, 2022
BCS Web Committee
Bengali Cultural Society (BCS) Executive Committee is pleased to announce you that Saraswati Puja will be celebrated in-person on Feb 5th 2022 in the Bloomfield Hall, Lyndhurst Community Presbyterian Church (5312 Mayfield Rd, Cleveland, OH 44124). We hope all members will join us in celebrating 50th year of BCS.
Please mark your calendars accordingly.
Our decision was prompted by the encouraging data from Cuyahoga County COVID dashboard showing significant drop in the number of new infections with some of the projections indicating further drop in cases. However, members attending the Saraswati Puja 2022, are encouraged to exercise social distancing, wash their hands regularly and wear masks. Proof of vaccination is mandatory for attending this event. Any BCS office bearer, members of executive committee or volunteers will not be held responsible on any account of anyone contracting Covid-19. By agreeing to attend this this event, you're acknowledging the risk of exposure to COVID-19 that exists in any public place. Please follow CDC guidelines and Ohio state guidelines during the event for your safety.
The event is limited to BCS members only. We appreciate your continuous support and encourage you to renew your BCS membership ASAP. Non-members who wish to attend Saraswati Puja can also take membership for the year 2022.
Please RSVP by January 29, 2022 if you want to attend the event in-person.
In order to make the event a success and help our planning, we encourage for membership renewal and the new membership by choosing any of the following options:
By visiting www.bcscle.org for 2022 subscriptions.
Membership Renewal/New Membership at the venue
Contact any of our EC committee member

Children's Virtual Performance
If you haven't submitted your child's name and participation details for the virtual program, please send the names of participants in each category by Jan 29th, 2022. Both the video performance and drawing are requested to be sent by January 31st 2022. The videos will be released on Feb 12th 2022 after Saraswati Puja.
Performance videos should be recorded in horizontal mode and uploaded in your own Google Drive and shared with
Kaustav Banerjee, bcscle.ec@gmail.com
Kids can participate in the following categories by:
A. Pre-recorded video of individual performance (Recitation, Dance and Singing etc.) with a duration of maximum 3 minutes
B. Contribution of Digital Image of individual's drawing.
Please contact our Cultural Secretary, Biman Ghosh, cultural@bcscle.org for additional details.
GBM
The first GBM of the year will be held following distribution of Prasad on the same day February 5, 2022. A separate email detailing the minutes of the last GBM meeting and streaming links for the GBM will be provided. We will be bringing back the year old tradition of BCS members cooking food at the venue during Saraswati Puja. Food and Prasad will be served in carryout containers so that members have the flexibility to carry the food back home should they decide to.

Event Timeline:
Gate Opening ~ 11:00 AM
Puja ~ 11:15 AM
Pushpanjali ~ 12.00 PM
Kid's Food Distribution ~ 12:30 PM
GBM ~ 12:30 PM
Adult's Food Distribution ~ 1:30 PM
Please feel free to reach out to any of our EC members for additional details.