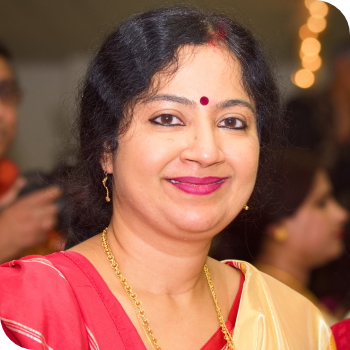 Thank You
January 1, 2021
Rajlakshmi Ghosh, President EC 2020
As we come to the end of an unprecedented year, on behalf of the Executive Committee 2020, I would like to take the opportunity to thank all members of Bengali Cultural Society for allowing us to serve you this year.
There were several people involved in all BCS related work throughout this challenging year. As we navigated uncharted waters due to the COVID-19 pandemic, the community showed tremendous support, helping us redesign our events and cultural programs and deliver them successfully. Whether it was our Baisakhi event – Jibon Joy O Prarthana, or virtual adda AajEktu Galpo Hok, or our global member collaborative – BCS Mahalaya Program, or our virtual natok – Bharate Chai, our members delivered flawless cultural programs one after the other. My sincere gratitude to our amazing Cultural Secretaries – Ambalika Dasgupta and Soumyajit Paul, for conceptualizing, organizing and coordinating the programs.
We received great support from our members for our COVID-19/Amphan donation drive due to which we were able to stand by the less fortunate during the challenging times.
I am truly grateful for the uncompromising hard work all BCS volunteers put in through the year. We thank all the members who contributed to our magazine this year through their literary and art works.
My sincere gratitude to Soumen Bhattacharya for the time, effort and creativity, he put in for the magazine. We truly appreciate what he has done for the team this year!
Bengali Cultural Society, as an organization, continues to grow. Even in this difficult year, there were nine new families who joined our community. We welcome you all and look forward to your involvement in various upcoming events.
As we hand over the baton to the new Executive Committee 2021, I hope that members will continue to offer the same kind of support and encouragement to the new team.
We congratulate Kingshuk Das and his team for taking up the responsibility to lead BCS the next year. Kingshuk, I wish you a successful year ahead!
সকলে ভালো থাকুন!
Wishing you Happy Holidays and hope you have a great year ahead.
Sincerely,
Rajlakshmi Ghosh
President, Executive Committee 2020
Bengali Cultural Society
Cleveland, OH