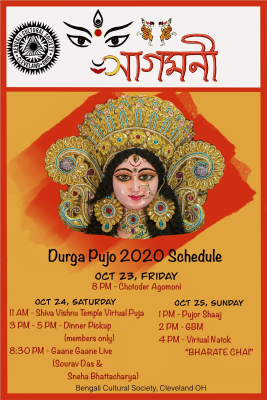 শারদীয়া
October 19, 2020
BCS Executive Committee
This is to inform you that due to the recent rise in COVID-19 cases in Ohio, we have decided to move the puja part of Durgatsov celebrations to the Shiva Vishnu Temple in Parma, OH. We made this decision keeping in mind the safety and well-being of all our volunteers. Only members of the EC, who are taking part in the Puja will attend. It will be a condensed version of the 3-day celebrations and will be streamed live for the benefit of the members of the community.
Titled Agomoni, the Durga Puja celebrations of BCS, Cleveland will comprise of the following programs for the three days:

1. Friday 10/23, 8 PM: Children's Cultural Program, ChotoderAgomoni, will be broadcasted on YouTube. The link will be shared before the program commences.

2.  Saturday 10/24, 11 AM: Durga Puja at Shiva Vishnu Temple will be telecasted live. Only participating EC members will be in attendance. Dinner pickup is scheduled strictly between 3 PM-5 PM from either of the two locations – Paradise Biryani Point, Mayfield Hts. or 6 Flavors Indian restaurant, Parma. depending on your survey response. 
A virtual live concert by SaReGaMaPa famed Sourav Das and Sneha Bhattacharya, Gaane Gaane will begin for your viewing pleasure at 8.30 PM

3.  Sunday 10/25, 1 PM: Pujor Shaaj Contest – We know how much this season means to us and our fresh new outfits! We're requesting all our members to send in your favorite clicks of your Pujor Shaaj. Dress up in your finest Pujo garb and send us your entries by 10/23, 5PM. Two entries per person are allowed. We will display this in a slideshow ahead of the GBM. You can also send in pictures of Durgatsov celebrations with your friends and family and for us to put on our Facebook page. Send in your entries for Pujor Shaaj and Durga Puja celebrations to Taniya (taniyatalukdar@gmail.com) by 10/23. Online GBM will begin at 2 PM on Zoom. The link will be shared ahead of the event.
This will be followed by Virtual Natok, "Bharate Chai", at 4 PM.
We'd also like to inform you that Lakshmi Puja will be held on 11/7 and will be live-streamed. Virtual live concert by singer Sohini Mukherjee is scheduled for 11/8 at 11:30 AM. More details to come soon.