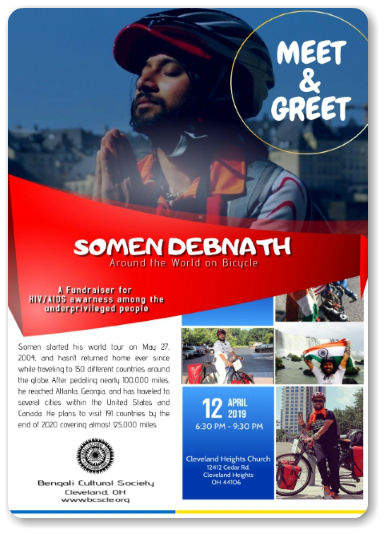 Meet and Greet – Somen Debnath
March 14, 2019
BCS Executive Committee
The Bengali Cultural Society of Cleveland (BCS) would like to extend an invite to its event, Meet and Greet with Somen Debnath, between 6.30 PM – 9.30 PM, Friday, April 12, at Cleveland Heights Church (former ICC Building), 12412 Cedar Rd., Cleveland Heights, OH 44106.
The event's mission is to raise funds for Somen, a fellow Indian from Kolkata, who's on a World Tour on his bicycle, to spread HIV/AIDS awareness among the underprivileged people who have the lowest level of awareness about this deadly disease. In his quest, the daredevil globetrotter, is also conveying the message of peace and humanity, as well as promoting Indian culture worldwide.
Somen believes in humanity and Swami Vivekananda's message and treats everyone as equals. The love and respect he shows others fortunately is almost always reciprocated. Each time he ran into a predicament – whether it was a stolen bicycle or lack of a place to sleep or food to eat – the locals came to his aid. The backing for his world tour has been mostly provided by patrons that he met on his way. Now that he's stopping through Cleveland, let's show him some Northeast Ohio love!
We encourage you to make generous contributions towards Somen's noble feat. Donations small or large can be made out via check to The Bengali Cultural Society of Cleveland and all proceeds will be donated to Somen's charity. We won't let you go back empty handed of course! Along with providing snacks and refreshments, get to hear Somen's 'captivating' stories from faraway lands he visited. We say that because he was literally captured by Talibans in Afghanistan with the cost of his freedom being chicken curry!!!
Don't believe us? Then come and meet Somen on April 12 and hear him share his intriguing stories of Afghanistan and other enchanted lands!
Somen has been covered by leading publishing houses across the globe. To know more about him and his exploits, you can refer to the following links:
telegraph.uk | theguardian.com | indoamerican-news.com | journaldequebec.com