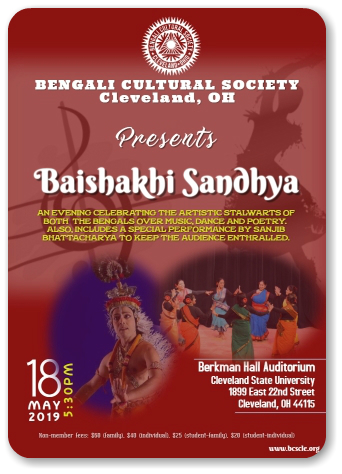 Baishakhi Sandhya
March 4, 2019
Cultural Secretaries
The Bengali Cultural Society, Cleveland, invites you to BCS Baishakhi Sandhya on the evening of Saturday, May 18, 2019 to be held at Berkman Hall Auditorium, Cleveland State University, 1899 East 22nd Street, Cleveland, OH 44115.
This is one of our signature events celebrating the rich Bengali cultural heritage that includes paying homage to the two literary giants of Bengal – Gurudev Rabindranath Tagore and Kazi Nazrul Islam, apart from celebrating the Bangla Nobobarsho.
Local artists honor the vision for equality, dignity and social justice of the two composers through their creations in the form of poetry, music and dance. Woven into this highly creative evening are the lively beats of adhunik and folk music, and delightfully choreographed dance sequences that transport the audience into a different cosmos.
We look forward to seeing you all at the event.